A rustic industrial palette stylizes the modern office without replicating a chicken coop
The brand new head office of Chicken Farmers of Canada, located in the nation's capital, is a work environment quite atypical of the usual office vista. As leaders of the sustainable Canadian chicken industry, CFC works closely with farmers throughout the country to manage environmentally responsible farming that in return ensures the production of quality trusted protein. While continuously implementing the research and development of food safety standards and ethical animal care programs, these leaders strive to maintain a transparent alliance of Canadian Chicken Farmers.
Interior Designer: Liz Miller, ARIDO
Design Firm: Parallel 45 Design Group LTD.
Design Team: Jessica Vagner, Intern ARIDO
Project Photography: Justin Van Leeuwen
A recurring presence of ash wood is carried throughout the space: reclaimed wood planks clad feature walls and coffered ceilings, linear wood lights are suspended above workstations, while low ash panels connect each work area. The reclaimed wood is carried into the kitchen area where ash shelves are housed on industrial black plumbing pipes, one of the many black accents that occurs in the office.
Deep hues of forest green, rusty orange and gold throughout emit a moody essence. Warm textures and materials effectively contrast the client's desire for industrial like features, such as the organically etched carpet that is accented by a concrete-look luxury vinyl tile. To enhance industrial vibes, faux red brick panelling suggests the presence of shared exposed brick party walls, appearing weathered and rustic.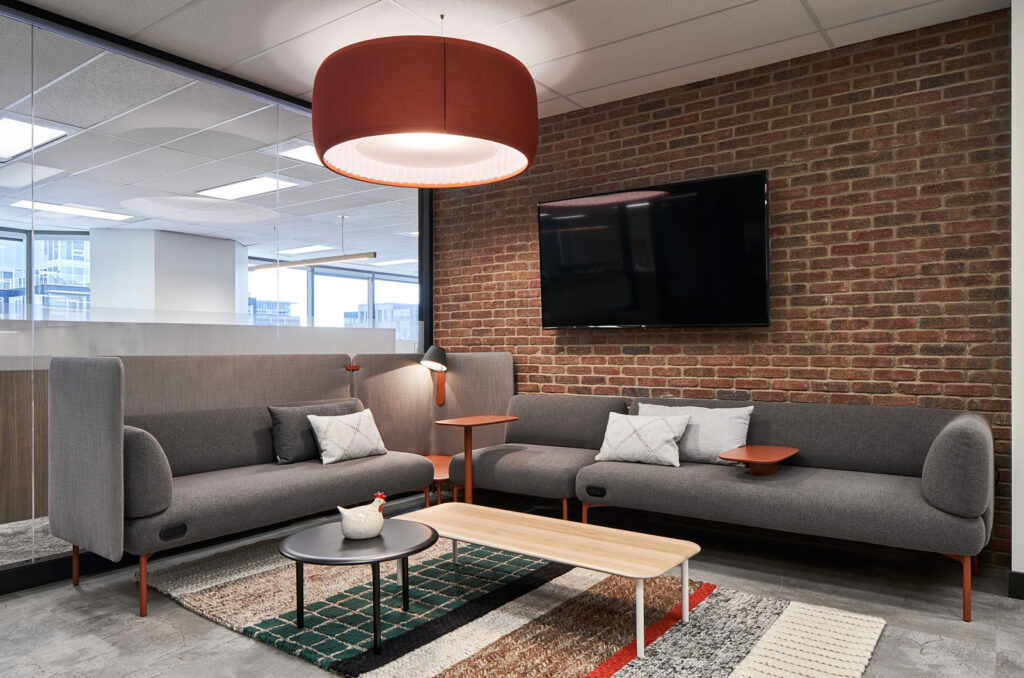 Each collaboration space and touch down area is complete with enticing accent lighting: oversized acoustic drums are suspended over sitting areas to muffle chatter; large black and gold pendants hover over the communal island; the organic swag light chandelier in the kitchen's wooden nook provides an intimate glow above its company below.
Hints of chicken memorabilia are strategically placed throughout the space to reiterate the rural farm motifs: baby chicks appear on faded wallpaper running from floor to ceiling, a local barn in monochrome film overlays the large boardroom glass, and among others, branded chicken throw pillows are placed throughout.
As you walk through the new Chicken Farmers coop, you are filled with a peculiar charm, as this is no typical office, but an environment that lives and breathes the passion of their work.
Related
ARIDO Award Winner: Smart City Sandbox

The Sandbox was a result of firm-wide technology pivot that focused on developing new technology platforms to embrace the creation of the Smart City of the Future. This transformation required a rethi ...

ARIDO Award Winner: Red Bull Canada

Creating a space that uniquely brings to life what a brand represents – energy, pushing boundaries, and going beyond the ordinary – without explicit over-branding was our latest challenge with ...