This project is a home away from home for families
Originally completed in 2011, this 100,000 square foot, five-level 'house in a garden in the city' provides a home away from home for families and their seriously ill children coming to Toronto for specialized medical care.
Interior Designer: Anne Carlyle, ARIDO
Joint Venture Collaborator: Robert Davies, OAA, Montgomery Sisam Architects
Design Team: Alanna Drawson, ARIDO
Design Firm: Carlyle Design Associates Limited
Project Photographer(s): Tom Arban, Stacey Brandford, Angus Fergusson, Virginia Macdonald, Donna Griffith
Designed to reflect and support the house's compassionate mission, 'helping families to heal better', the building provides all the facilities that families need to make the house their own: communal living, kitchen and dining rooms, games and playrooms, a library, a variety of activity rooms, a school, and 81 family suites.
True to guiding design principles, the house is open, warm and welcoming, full of light and connections to outdoors. Public spaces are grounded with wood and stone and punctuated with walls of lively colour. Finished with one of three quiet palettes, each family suite is a restful retreat within the building.
The use of warm, vibrant colours in corridors energizes the three upper levels, and transforms the building into a beacon of glowing coloured light, visible across courtyards and from the street.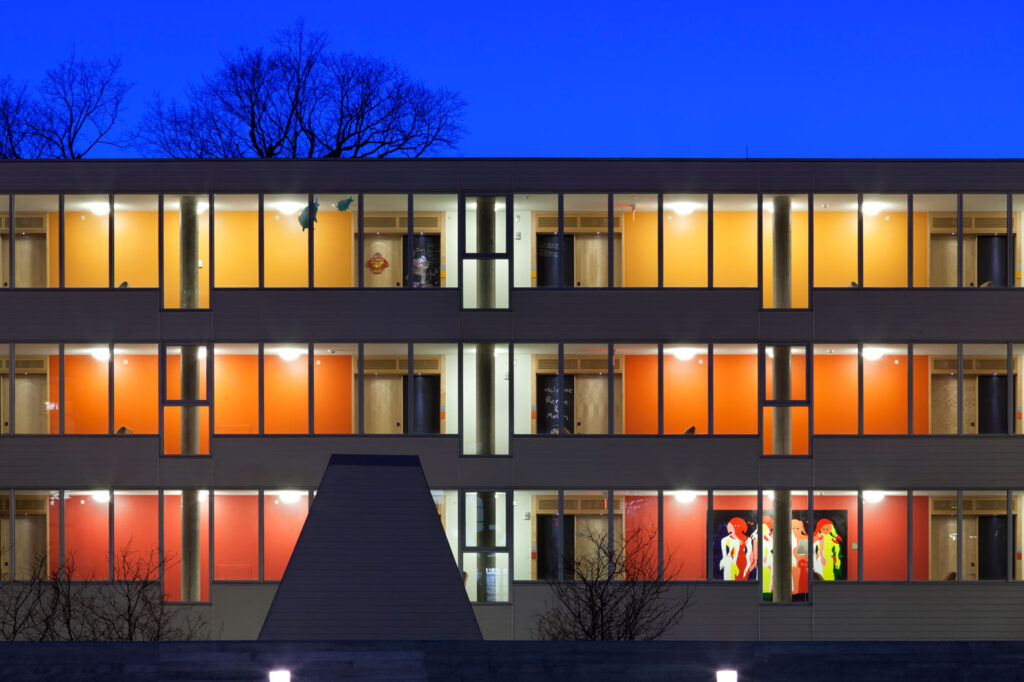 Furnishings throughout – a varied and eclectic mix of contemporary, custom, traditional and old/found – add colour, texture and character; like a family home that has been lovingly furnished. Two sheltered exterior courtyards are equipped to support both family dining and quiet outdoor lounging.
Over 300 works of original art – commissioned, purchased and donated – were selected for their special meanings. Highlights include a lyrical wrought-iron entry gate, expressive courtyard and rooftop sculptures, paintings by children at the house, and others by adults living with disabilities, a collection of paired aerial and detail photographs hanging in all the suites, one of Toronto's iconic moose and a family of sculptural "whimsies" – funny, fantastical creatures – that inhabit the corridors.
This project was a seamless four-year collaboration with the architectural team, after establishing the design principles with stakeholders. Donations poured in from suppliers to support fire safety, sustainability, indoor air quality, accessibility, durability, cleaning and skilful integration into the design scheme.
The completed project is a critical success, called "a remarkable hybrid of grace and civility designed to function as an urban hotel and as a refuge of wellness." by Lisa Rochon of the Globe and Mail. More importantly, one of the first family visitors said, "I cannot believe the amount of thought put into every detail, . . . it's above and beyond anything I could've ever imagined."
Related