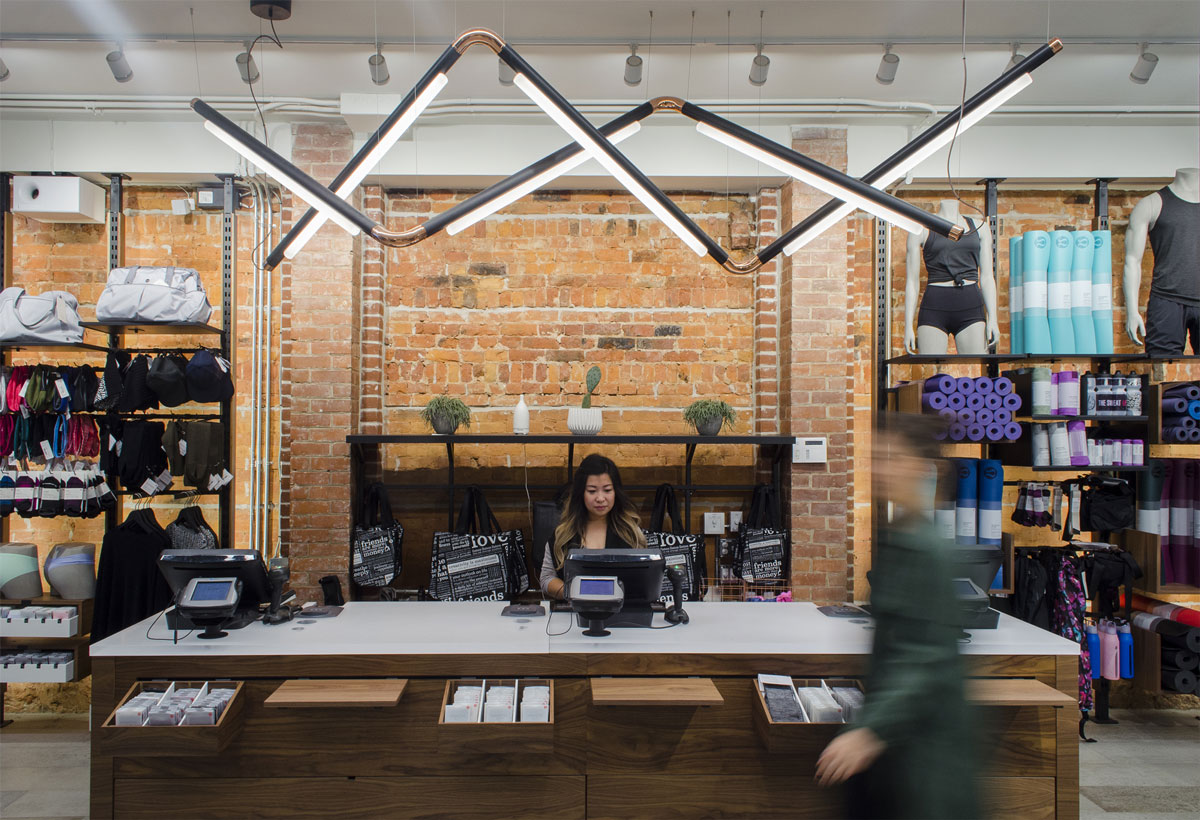 Lululemon's Queen Street location ensures top notch customer service isn't a stretch
Interior Designer: Marcella Au, ARIDO
Design Firm: Quadrangle
Photographer: Terri Flinn
For its new location at 318 Queen Street West, in Toronto, Lululemon asked Quadrangle to collaborate on an environment that reflected the brand's community-driven ethos and Queen Street West's one-of-a-kind vibe. The client also wanted a large, open storefront that would physically connect the public space with the interior and take advantage of the unusually deep sidewalks on this part of Queen Street.
The 1870's brick building required conservation and restoration while alterations had to meet the requirements of the Historic Conservation District Guidelines. As one of the prime buildings on one of the best blocks of Queen West, the client felt the responsibility not only to meet the guidelines but to set a good example of best practices, acting as a "good neighbour" and thereby underscoring Lululemon's brand values. This work was completed in cooperation with the building owner.
As retail shifts from brick and mortar to online shopping, we needed to address a shifting emphasis from sales to a gathering space where Lululemon can renew and cultivate great personal relationships and experiences with its guests.
The design team worked from the themes, "art, sweat, and community," for the design and programming -- inviting clients to experience the newest products and to access local culture. Completely remodeling the storefront at ground level, the design team inserted a bifold door that links the interior with the public realm and invites the public inside. The doors salute the area's industrial heritage, which compliments the brick façade and mullioned windows above. Inside, the brick party walls were exposed, showcasing their warmth and texture.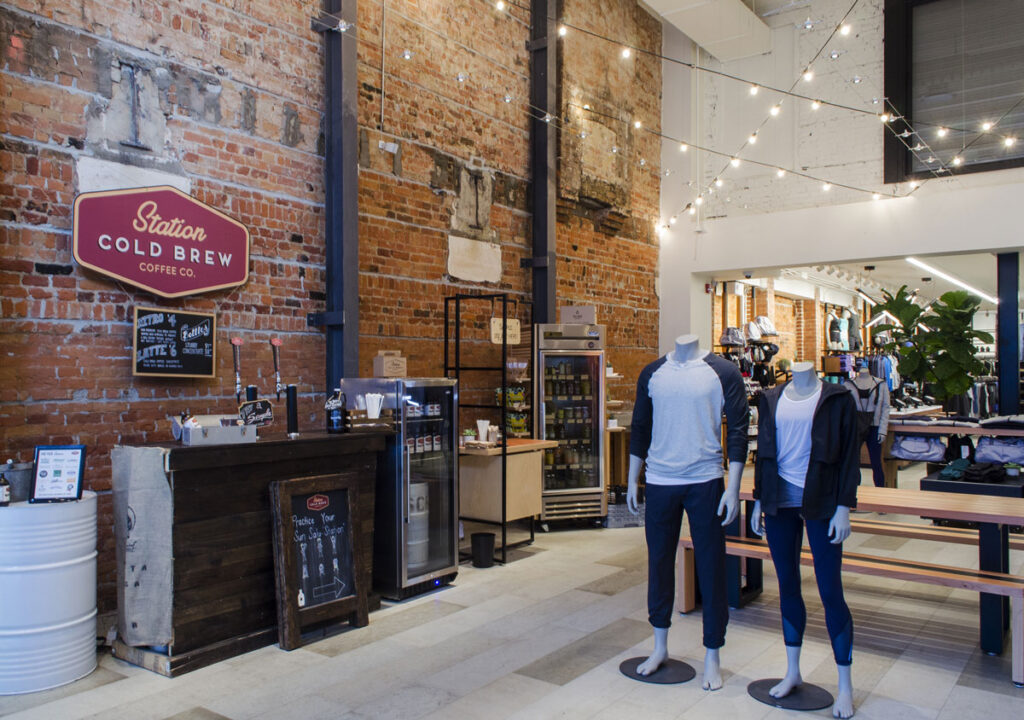 At the front, "The Residency", is a marketplace-inspired environment for merchandise alongside rotating local pop-up retailers and art. String lights twinkle over picnic tables, creating an intimate and relaxed social atmosphere while adding to the indoor/outdoor mix. A camper van designed by local studio Astound Group pays tribute to Queen West's artistic spirit and its famed former "Speakers Corner," where guests can sit and share ideas on video and social media.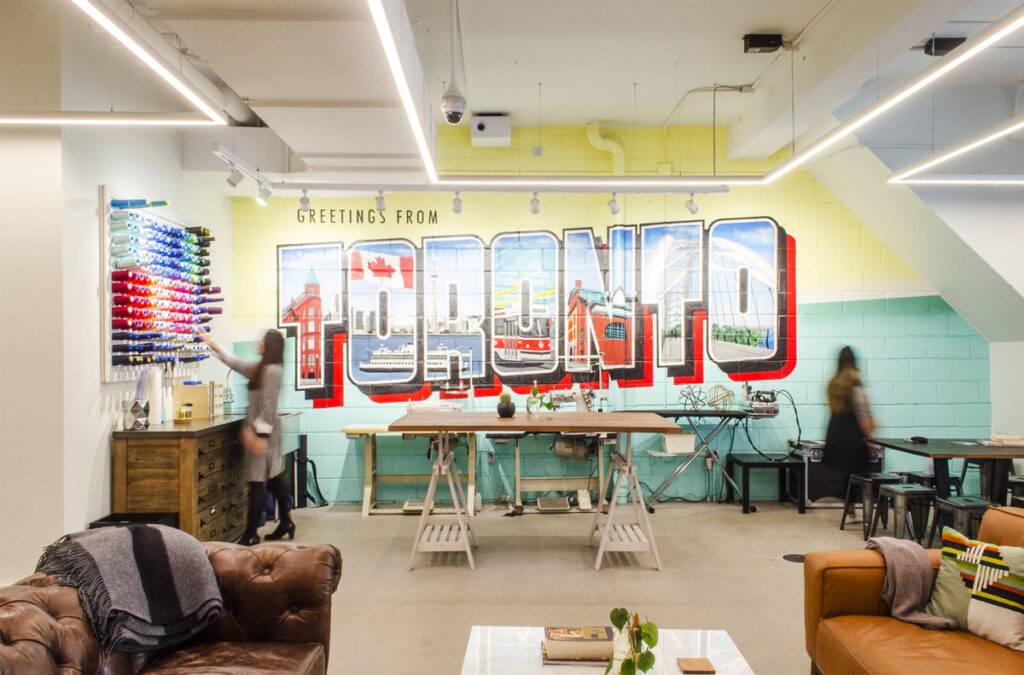 At the rear, "The Hustle" is a community space for workshops and intimate gatherings. Highlights include a walnut ping-pong table by the Brothers Dressler and a custom mural by popular duo Greetings Tour. The area includes a hemming station and thread wall—purposeful and colourful while referencing the store's location in Toronto's Fashion District, and the complimentary services every store offers.
The second floor became "The Attic", a bright and airy yoga studio that enhances this location's special nature. This space creates opportunities for impulse purchases and attracts more guests.
Related