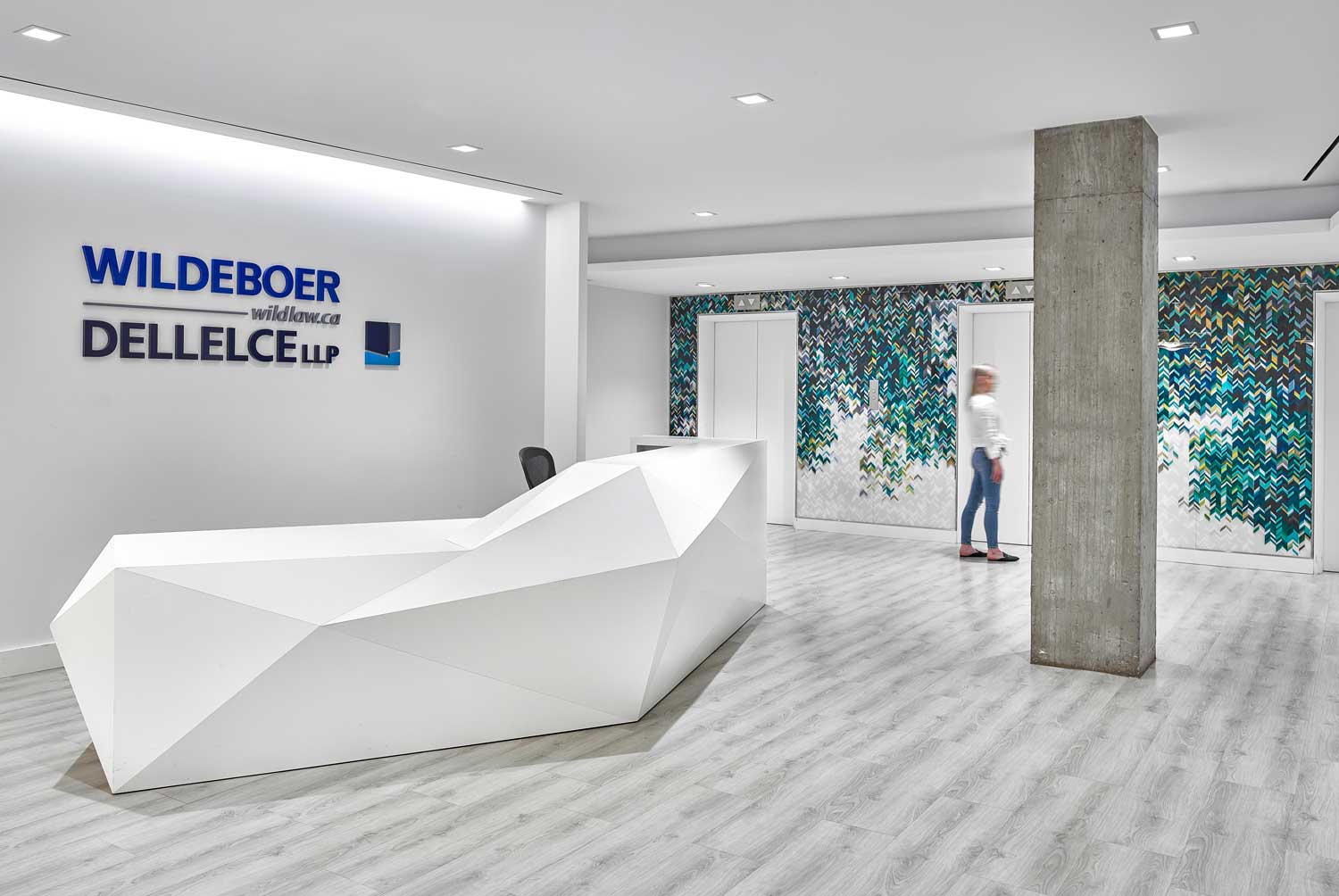 A contemporary space for a contemporary law firm
As Canada's leading entrepreneurial and transactional business law firm, Wildeboer Dellelce LLP is committed to being a pioneering force for legal practice innovation. Their ambitious culture is what has driven the design team to create a dynamic, contemporary space. The trappings of a typical law firm, dark finishes and little to no collaborative space, were transformed into a modern layout with a colourful palette that exceeded their expectations. The new space was designed for efficiency, allowing each floor to serve multiple purposes while creating seamless traffic flow and connection between lawyers and clients.
Interior Designer: John Tanfield, ARIDO
Design Firm: SGH Design Partners
Design Team: Mireille Metwalli, ARIDO; Jillian Warren, ARIDO
Project Photographer: Scott Norsworthy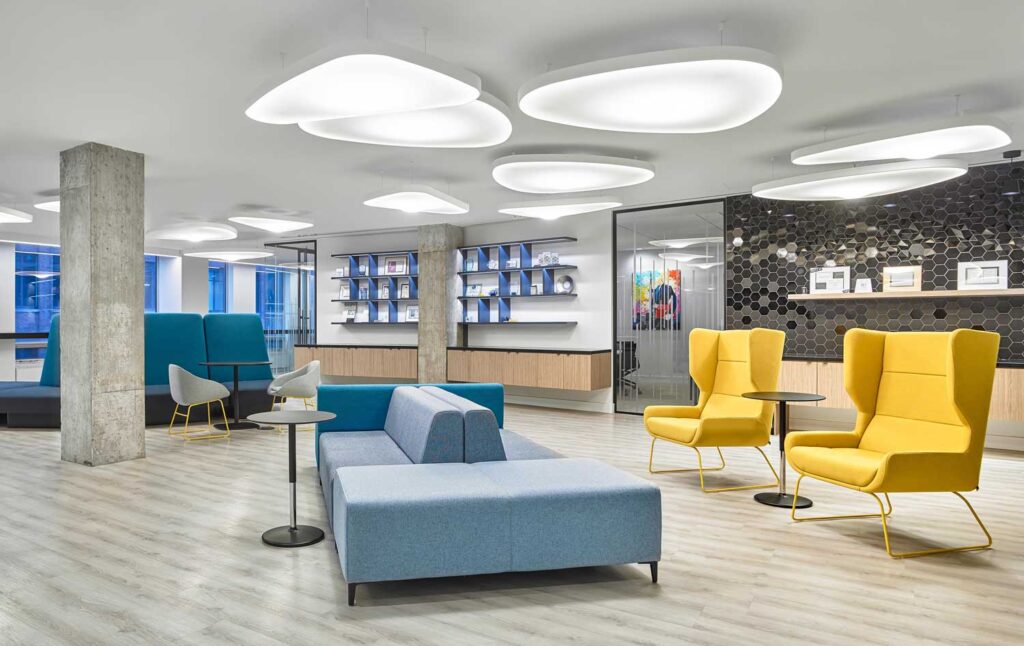 A key design challenge was renovating the full three floors to transform the current office into a progressive space that can adapt to the user needs, provide meeting spaces, alternate workplaces, and event space while respecting a set budget. Number one on the client's list of needs was the pool table that stands proudly in the reception space. It symbolizes the vibrant and charismatic culture that the company has championed from the start, and is visible to anyone who enters the space. A variety of furniture solutions were planned for each floor to encourage employees to move into different working environments throughout the day.
The design team worked on this project from the real estate review process. With that early start, decided to remain in their current office but renovate the space. All three floors were renovated, which modernized the office into a playful yet sophisticated space. The 8th floor is client-facing, dedicated to meetings and events, and designed to make a lasting impression. When arriving at reception, guests are greeted by a bright open space filled with light and texture, created by the sharp angles of the reception desk which contrasts the soft colour palette.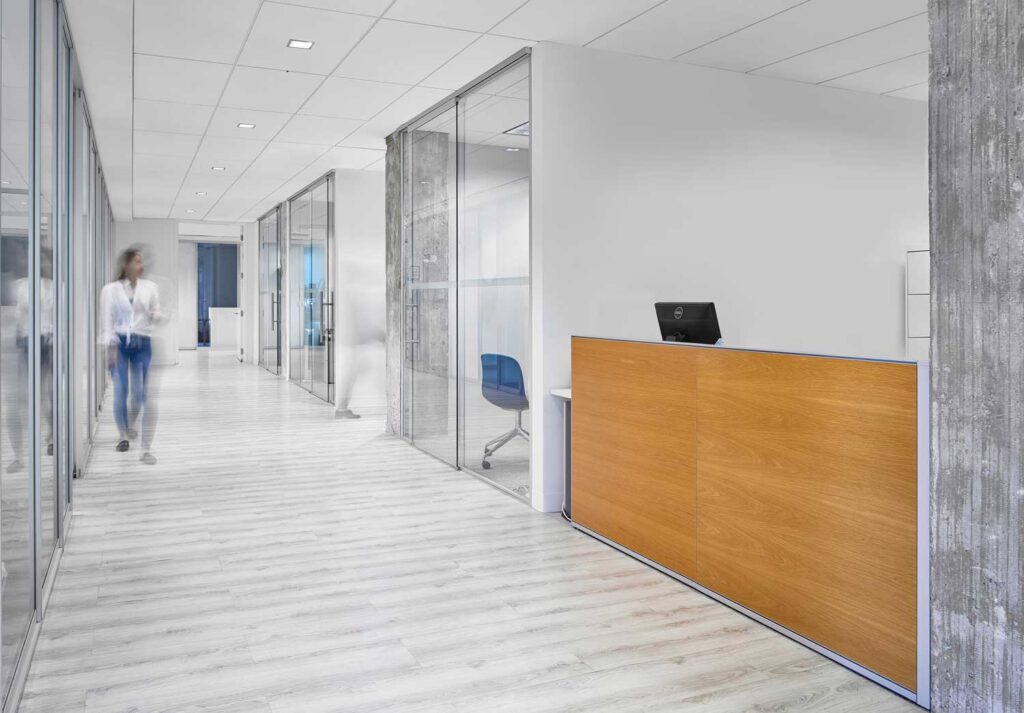 Private meeting rooms surrounded by glazing flank both sides of reception, creating seamless transparency on the 8th floor. Ceiling treatments provide variety and animation of the event space, as well as an illuminated light wall that runs along the length of the reception. The 9th and 10th floors are connected by an existing sculpture-like staircase, which allows lawyers to connect seamlessly and privately. When visitors take their first steps off the elevator they are instantly greeted by an energetic servery designed to encourage conversation. These floors are primarily used for partner and clerk offices, as well as administrative support. Both floors are consistent with the radiant and transparent look and feel of the overall space.
Related
ARIDO Award: The Hive

The first of its kind in Canada, this 3D printed masonry wall is the result of a collaboration between design professionals, students, and faculty at an Ontario university. Category: CRAFT Interior De ...

ARIDO Award: Spadina Workplace

Designing for human behavior and fostering innovation were the two key strategies for this workplace redesign. The design team aimed to inspire a return to the office not from necessity, but a genuine ...