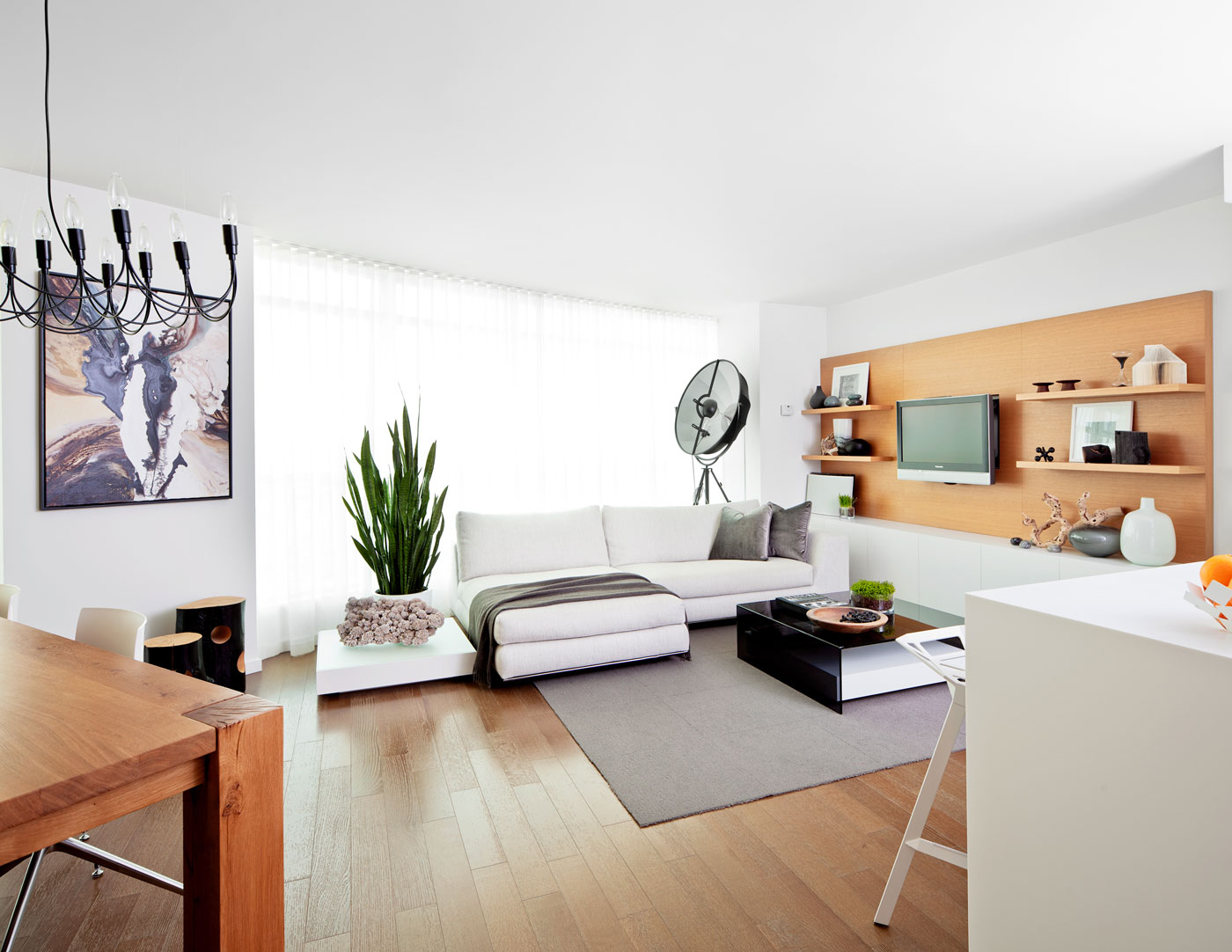 A serene condo in Toronto's bustling downtown
When purchasing this 1,205 square foot condo, steps away from Toronto's downtown core, the client imagined a highly customized, open space that buffered the hectic city environment with serenity and calm. In the interview with the design team, the client specifically asked for a lot of concealed storage, a large home office, and a sophisticated design suitable for entertaining.
Interior Designer: Mini Ryu, ARIDO
Design Firm: Ryu Design
Project Photographer: Margaret Mulligan
Interior Designer Mini Ryu modified the layout of the space, removing a powder room to increase the size of the office space while respecting the client's budget.
The centrally located kitchen makes a natural gathering place for guests, with warm oak flooring underfoot, and sleek white lacquer cabinetry that provides the requested concealed storage. Opposite the kitchen is a curved wall of windows, that lets natural light flood into the space. The design team carefully planned the placement of furniture, lighting, and accessories to create harmony on this curved line. A dark, smoky glass coffee table, warm accent fabrics and a collection of interesting accessories add warmth to the space.
A home office off the front entrance of the unit is partitioned with white translucent glass offering privacy and visual interest with shadows and silhouettes, while allowing natural daylight to penetrate.
In the bathroom, warm earth tones, and varied textures of wood balance the modern, clean lines of white millwork, geometric shapes and abstract art. Baked ceramic pieces are scattered across a wall like leaves from a gentle breeze, adding to a spa‐like peace at the end of a long day.
Each of these elements from the design adds up to an effective balance of functionality and style with modern, natural and rustic elements executed in visual harmony.
Related