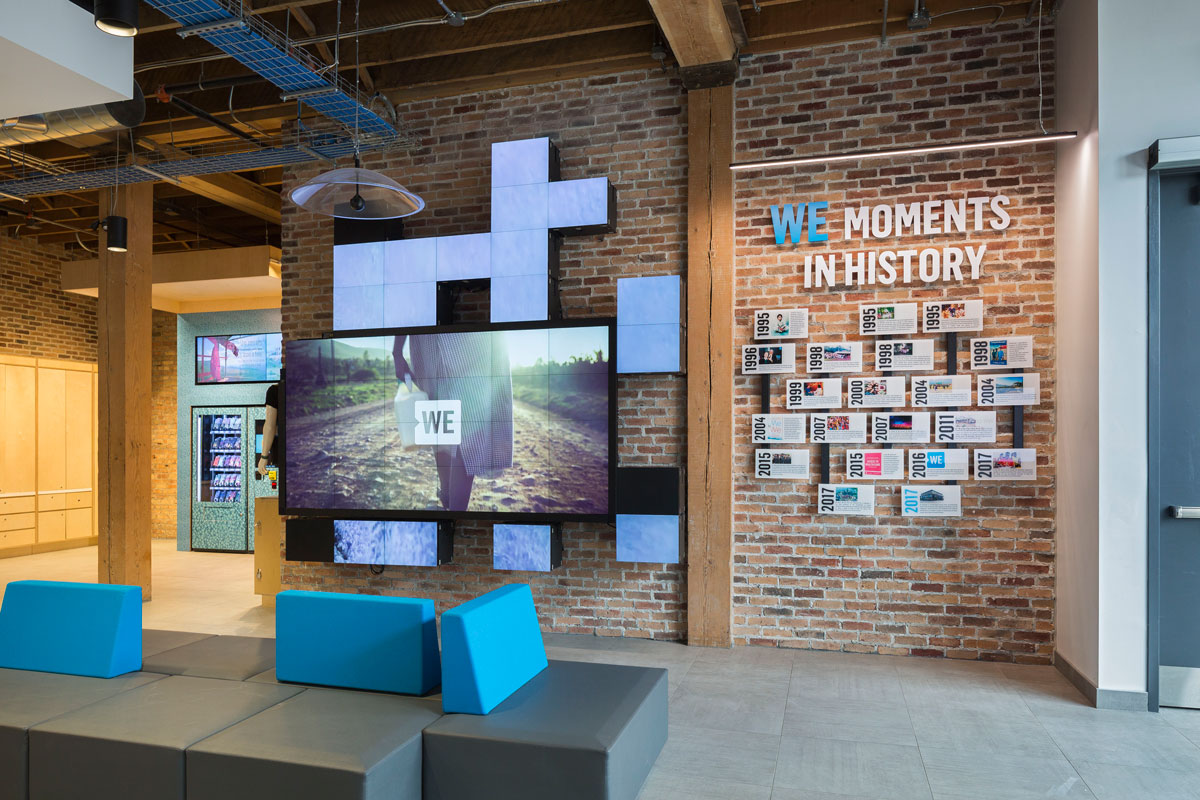 Making doing good, doable
The WE Global Learning Centre is a welcoming space designed to foster exploration and learning among youth, designed to embody the organization's mantra, "WE makes doing good, doable".
Interior Designer: Karin Karak
Design Firm: k2 designworks inc.
Photographer: Philip Castleton Photography Inc.
The new design of the WE Global Learning Centre incorporates collaborative and inspirational working spaces, cutting-edge technology to sustain an internationally active charity, and provides a venue to shape next-generation leaders in an ecologically sustainable way.
Teams that had previously been isolated from one another were now offered combinations of enclosed offices, open work areas, various meeting and collaborative spaces which encourage greater synergy. Employee wellness is met through design features of ample natural light, calming and neutral palettes, catering to a young employee demographic that thrives on fluid engagement and changing tasks.
Due to the regular need for connectivity with external teams and stakeholders - cutting-edge technology was critical. Staff can now access video conferencing instantly, connecting them locally and abroad. Custom monitors stream original content, a donor wall is fitted with touch-screen navigation, an incubation hub supports entrepreneurs, Skype-supported classrooms offer global outreach, a 200-person amphitheatre can divide into two digital classrooms, and a multimedia control room and recording studio supporting instant content creation.
Throughout the restoration of the historic building's envelope, the design team took care to return the brick finish and window sizes back to their original state. Inside, exposed brick was accentuated as a design feature, and recycled bricks were used wherever a wall was moved or expanded. The beams, posts, joists, and roof are all original materials and retrofitted in order to maintain the structure's historic character and reuse the existing resources available.
The building's automation system represents the latest technology that provides several environmentally respectful initiatives. Throughout all four levels, 39 micro-climates are heated and cooled independently and equipped with motion-sensor controlled lighting and systems that utilize daylight harvesting to reduce energy use.
Design inspiration was also drawn from some of the charity's social objectives. Carpets sourced were sourced from an organization that partners with fishermen in the Philippines who use discarded nets that larger ships leave on the ocean floor and sell them to carpet manufactures who recycle the material into sustainable carpet flooring.
The building is designed with accessible water refill stations that reduce the need for bottled water. Water conservation facts are listed at each station as an enviro-design feature that tracks the number of plastic bottles saved. After six months of use, the refill stations have saved more than 32,000 plastic bottles.
Related