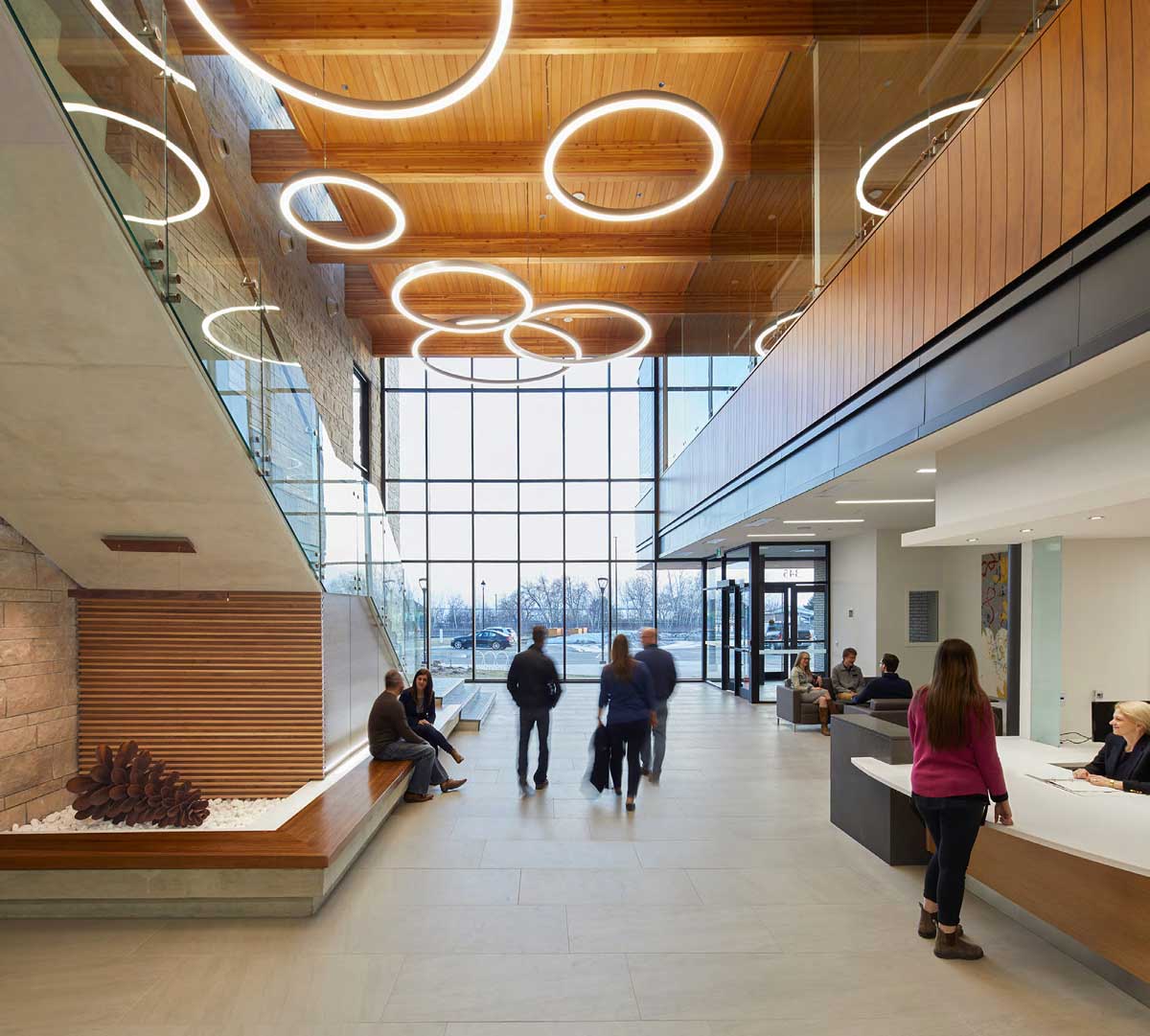 'Movement is life' is the driving theme of this North Bay healthcare centre
A project that has been in the works since 2012, the North Bay Parry Sound District Health Unit can now provide public health services to a community that was once seriously underserved.
Interior Designer: Anne Carlyle, ARIDO
Design Team: Alanna Drawson, ARIDO
Design Firm: Carlyle Design Associates
Architect Lead: Paul Mitchell, B. ARCH OAA FRAIC
Architecture Firm: Mitchell Jensen Architects
Photographer: Lisa Logan
In a design collaboration between Mitchell Jensen Architects and Carlyle Design Associates, this highly functional building "brings public health into the public realm", according to principal designer Anne Carlyle, ARIDO.
A site was purchased in North Bay that is easily accessible by public transit, bike paths, and pedestrian routes to embody the Health Unit's objective to promote healthy lifestyles. The design team and client shared a goal of designing a facility which is practical, reflects the Unit's values, welcomes the public, inspires staff and visitors, and symbolizes the value of health promotion to the community. 'Movement is life', and is fundamental to health, which became a driving theme in this project.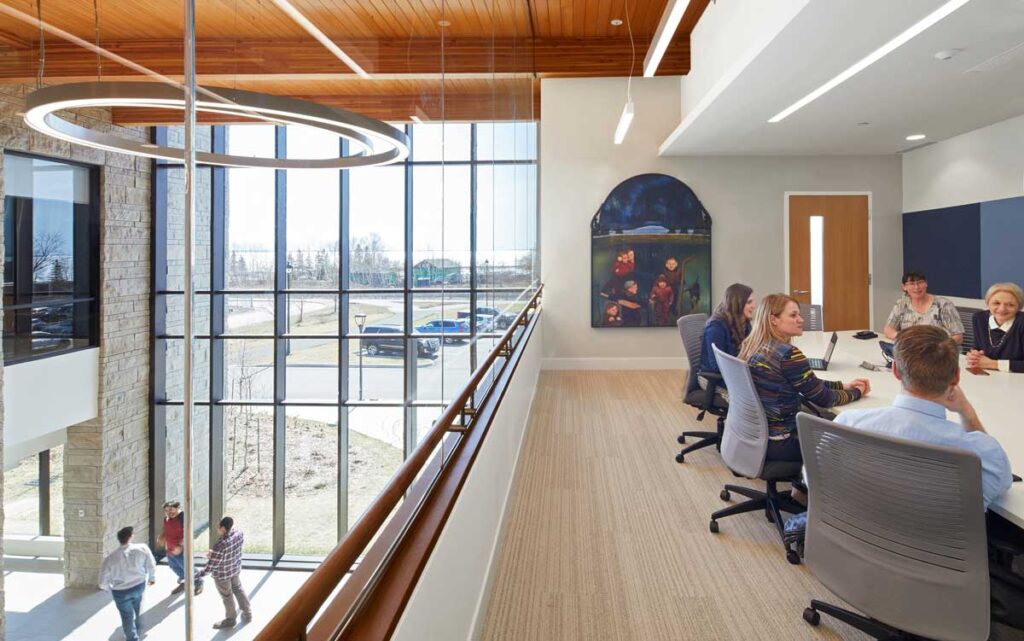 From the entrance, movement is expressed by the expansive open atrium with prominent, gradual stairs, and discrete elevators. The repeated elements of circular shaped lighting and Douglas Fir curtainwall continue this rhythm throughout the building. Expansive glazing and views of the landscape help to calm anxious visitors and to aid wayfinding, while the connection to nature is further reinforced by materials including abundant wood and natural stone.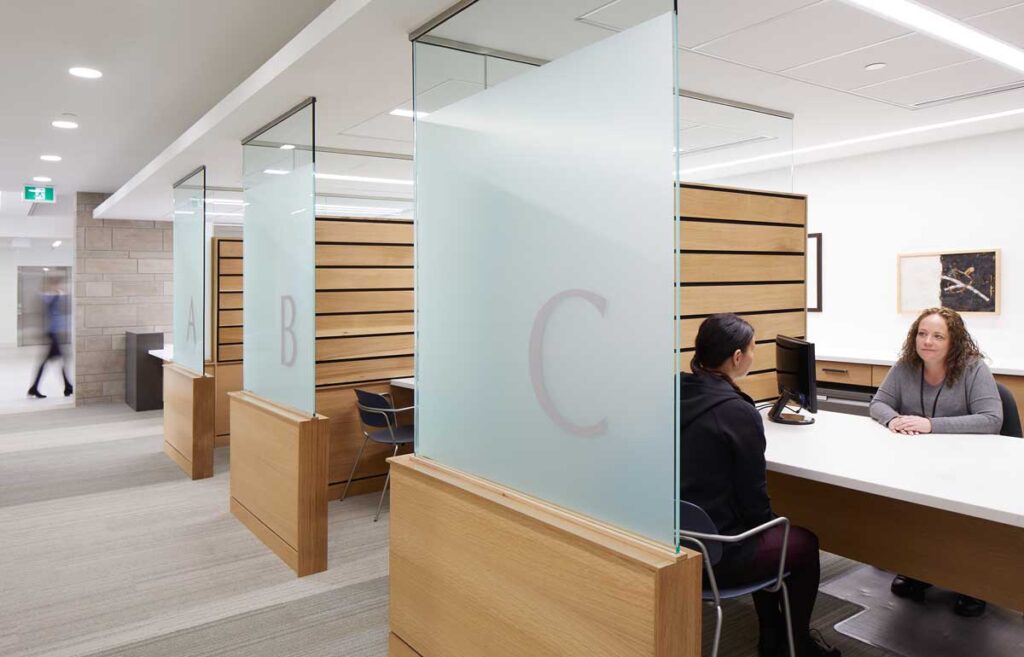 Behind the scenes, staff are provided with a variety of workspace options including workstations, private rooms, lounge spaces, and group settings for table-based and more casual meetings, shared work or socialization. These workspaces run perpendicular to windows to maximize natural light, views and windows, and are adaptable to employee needs with sit/stand options, adjustable storage, and task lighting.
Art by local artists is placed throughout the space, fifteen were generously donated through an anonymous donor, while another fifteen are on loan via a partnership with a local gallery. The pieces inspire reflection and conversation, adding dynamic interest to the stunning facility.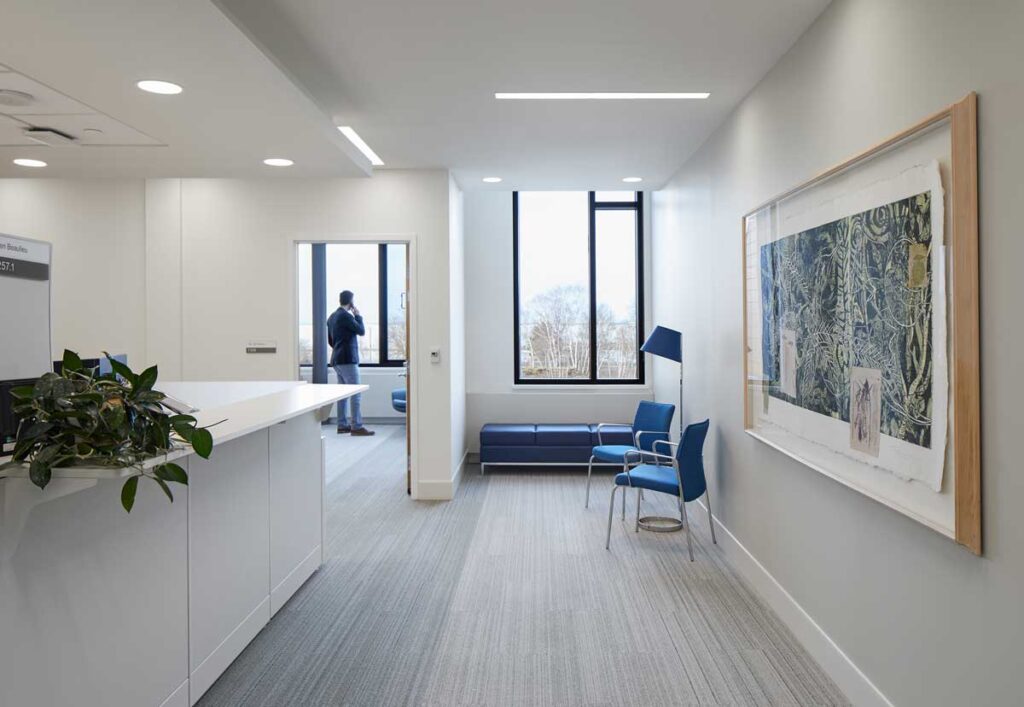 This project was also awarded a Canadian Interiors Best in Canada Award for the Institutional Category. Congratulations to Carlyle Design Associates and Mitchell Jensen Architects!
Related