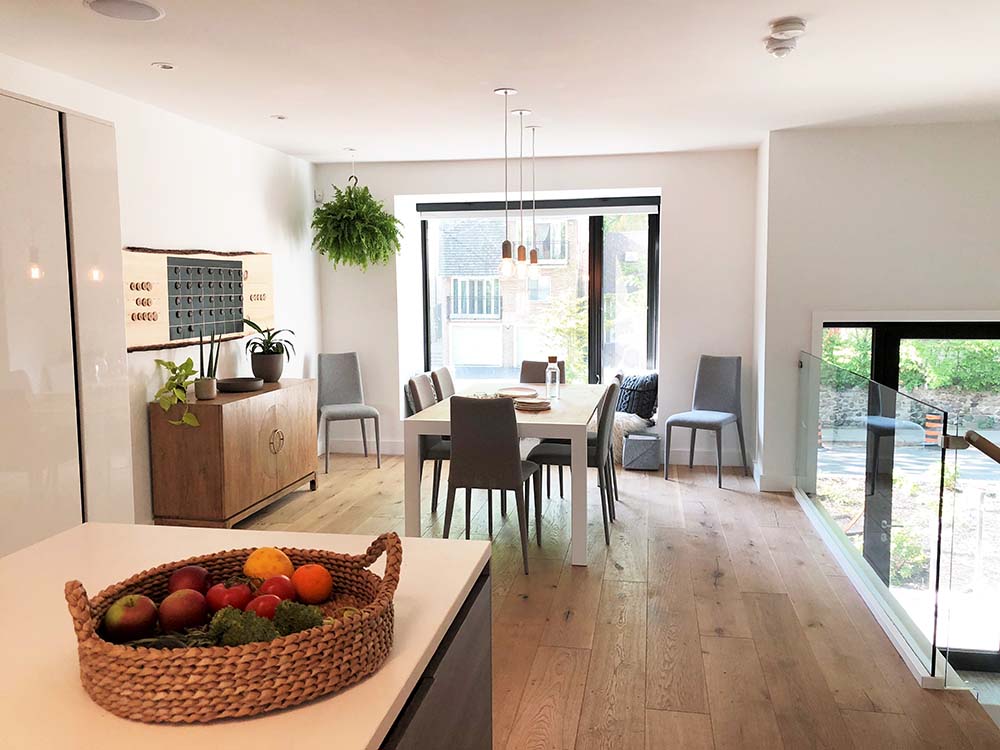 Bringing the outside in made this home feel liveable yet contemporary
The clients purchased this home mid-construction and were excited that it was an eco-friendly build using insulated concrete form construction and radiant floor coils as the sole heat source. They loved the views of the water on each of the three levels, and the adjacent tree-lined neighbourhood.
Interior Designer: Azen Bongard, ARIDO
Design Firm: Studio 8 Design Inc.
Photographer: Azen Bongard
With a floorplan considerably smaller than their previous home, their main concern was feeling cramped as a family of four. They also needed the home to accommodate their family business, which added to the space constraints.
The client's other concern was that the design of the home not be too cold and modern. They had seen many new homes that felt sterile and impersonal to them, and they envisioned a space that was contemporary, yet livable and warm.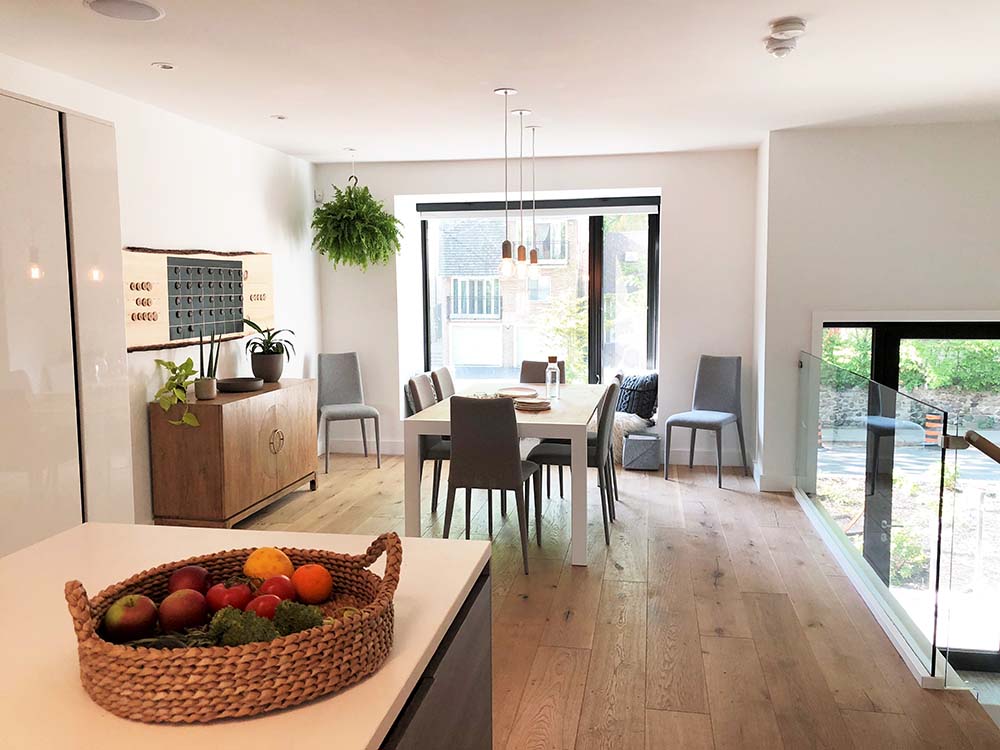 In order to visually enlarge the space, the design team maximized the indoor/outdoor connection with large windows, backyard access from the ground floor, and lush plants around the space.
Minimal blinds let in an abundance of natural light, while guard glass with little hardware lets the light flow throughout the space, and the elegance of the double high space over the kitchen is emphasized by a custom sculptural light fixture which also draws the eye upwards. A barn door and wooden bar-stools soften the modern angles of the home, while the natural oak of wide planks underfoot enhances the connection to nature.
The aesthetic even spread to the storage solutions, where extensive built-ins in each of the rooms were created to stow clothing and clutter away.
The design team mainly used natural materials such as wood, concrete, brick, rope, undyed wool and felt in order to create a warm, contemporary aesthetic. Each are eco-friendly options, which also emphasize the natural colour palette, while the team chose throws, pillows and carpets with lots of texture, to emphasize the handmade, human connection.
Related
Luxury with a view

Sometimes the shape of a room dictates the furniture and millwork layout. In the case of our Esplanade project, the open living, kitchen, and dining room had an unbelievable view of Toronto with the w ...

ARIDO Award: Elevator Cabs

The challenge of this elevator cab redesign was to create a mobile portal between a well-aged ground floor lobby that would seamlessly integrate with each of the floors above. Category: DISTINCT Inter ...