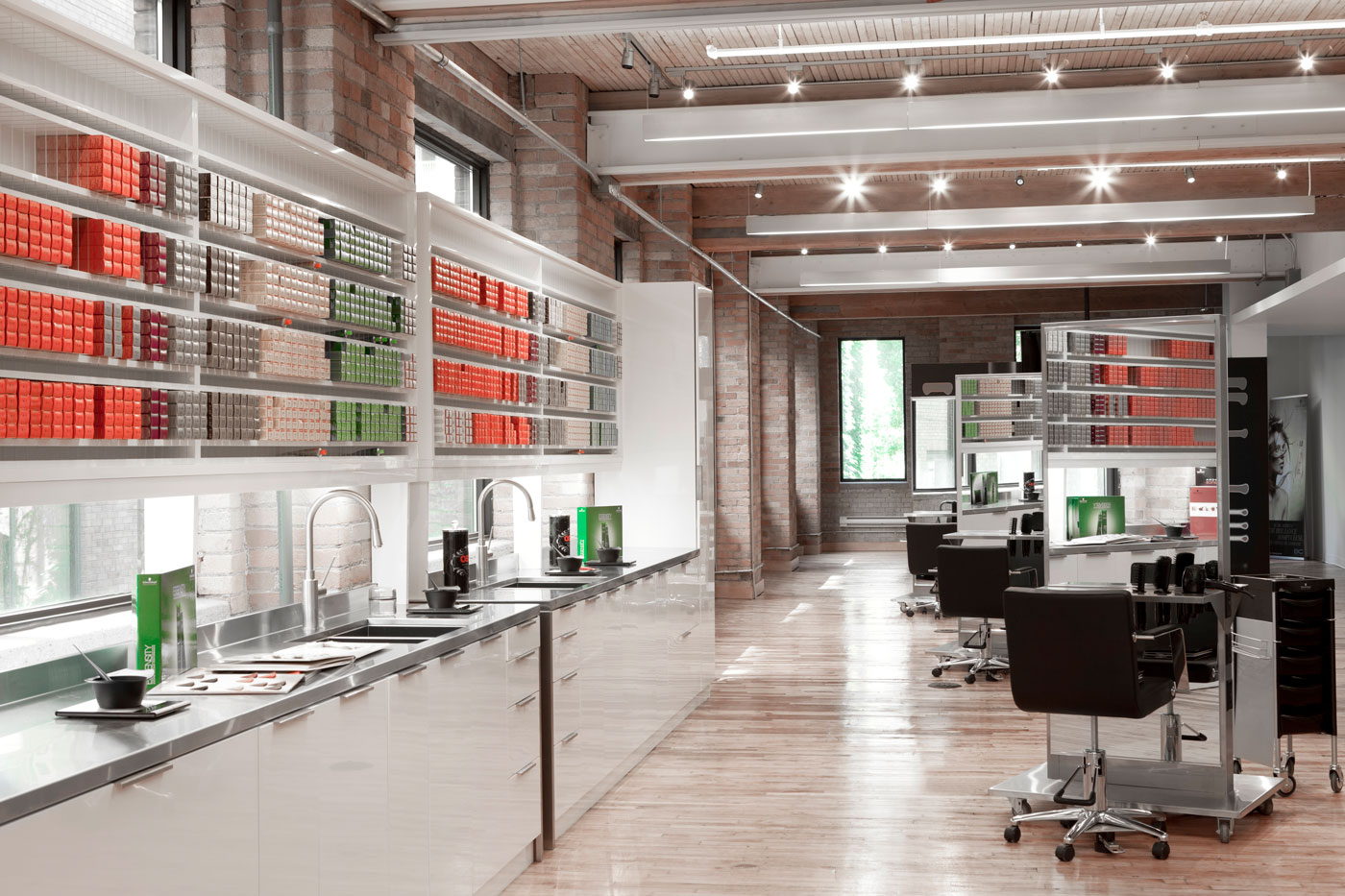 This hairstyling school lets vibrant colour pop against a modern backdrop
The project converted a raw, post and beam loft into ASK Academy by Schwarzkopf Professional, a professional training facility for hairdressing trends, technical skills, and business management. The 7,200 square foot space is also a retail showroom for Schwarzkopf products and a place for demonstrations, meetings, seminars, and launches.
Interior Designer: Valerie Gow, ARIDO
Design Firm: Gow Hastings Architects
Project Photographer: Tuxedo Boutique Marketing
This new space brought the Schwarzkopf academy from a characterless location near the airport to a bustling downtown Toronto neighbourhood. The client wanted the historic warehouse to house a teaching facility with 18 styling stations, washing areas, colour and cutting studios, two theory and colour classrooms, meeting and working space for international advisors, a student lounge, reception and retail space.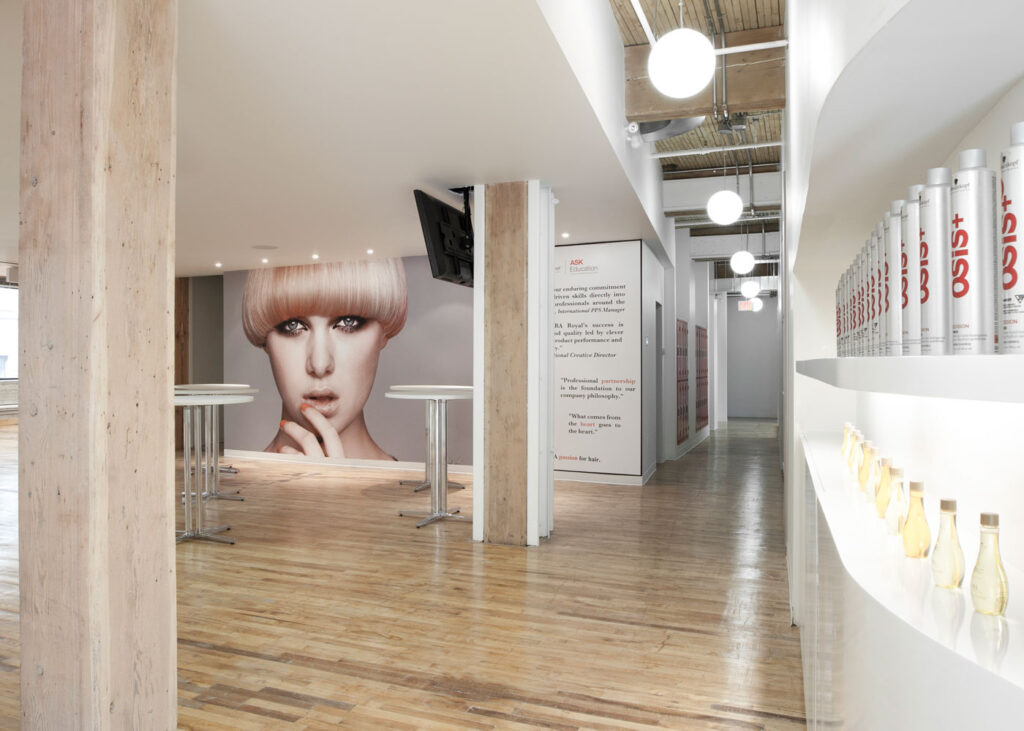 The space needed a professional and international ambiance that matched the rest of the ASK Academies worldwide. Yet, as the North American Flagship location, it also required some regional character, in a setting that enables it to stand out from its competitors and their teaching salons.
The design team built a new ceiling through part of the space, creating a polished interior for certain spaces, with slices of the raw shell revealed in others. The space is white and bright, and keeps messier parts of the academy, like the hair colouring section tucked away, like the 'Colour Bar' where students mix dyes.
The Colour Bar consists of stainless‐steel shelving filled with boxed dyes, and visually defines the interior's identity with swaths of Schwarzkopf signature colours. Shelves located in front of windows vibrantly project Schwarzkopf's presence to the street, while the open sections at counter level allow students to evaluate their mixes in natural light.
The student lounge is flexible and can easily become a formal presentation space by reconfiguring the furniture and closing floor‐to‐ceiling doors, letting the academy accommodate live events, and on‐line training, while the sophisticate ground floor space encourages walk‐in traffic for treatments and purchases.
Valerie Gow, ARIDO and her team were able to design a highly functional and professional space for the varied needs of this hairstyling brand.
Related
ARIDO Award: School of Continuing Studies

Interior and exterior are in dialogue at York University's new School of Continuing Studies building. The interiors respond to and compliment the unique exterior geometry of the building. This strat ...

ARIDO Award: CIBC Conference and Learning Centre

A people focused approach was the starting point for this new three floor conference and learning centre in Toronto. The client needed a space where they could host executive and employee training, as ...