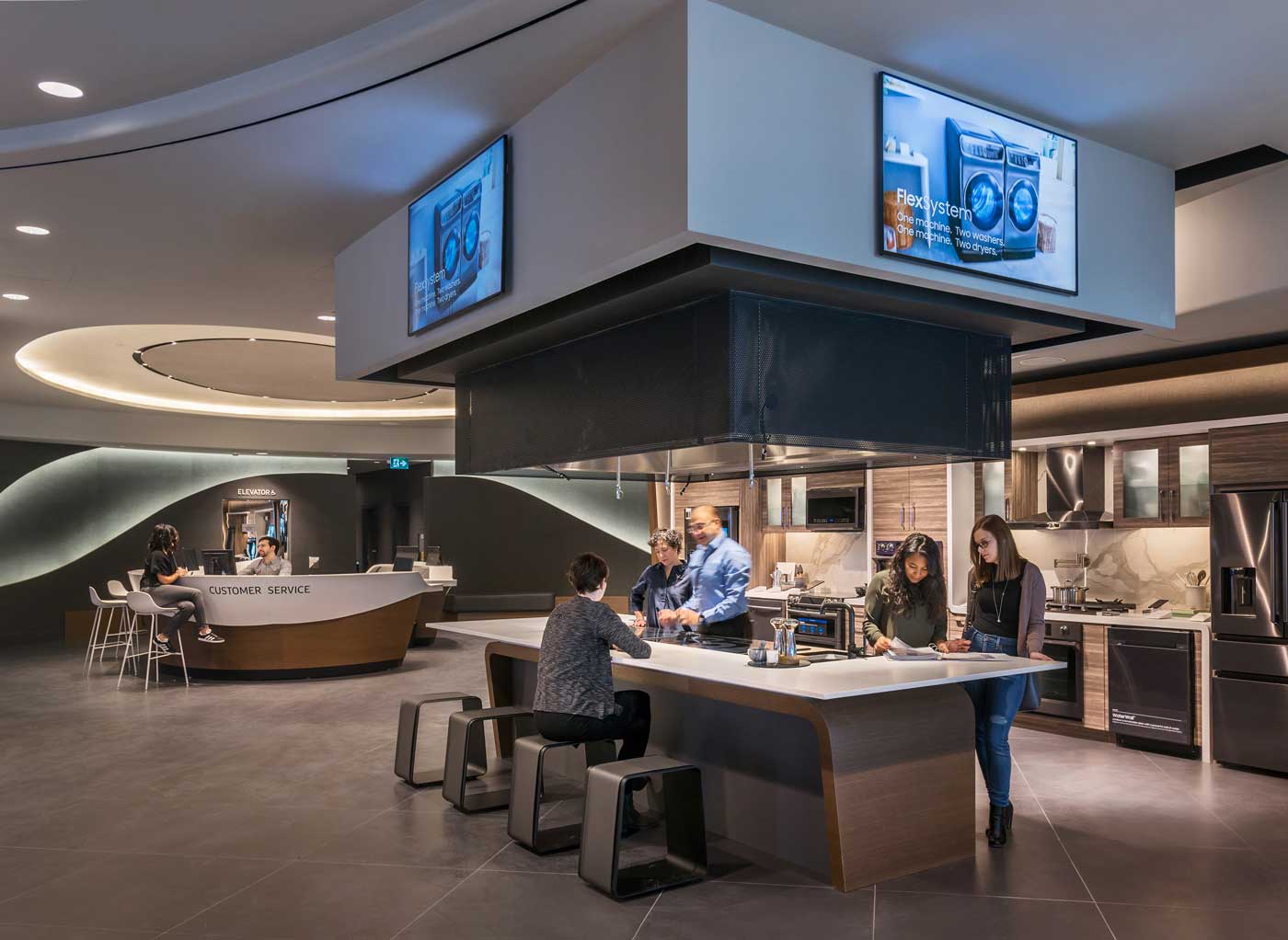 Samsung's Experience Store is a playground for techphiles
In response to the rise of e-commerce, Samsung enlisted our firm to create a new kind of flagship store to establish a 'touch point' for the brand - a place to experience its latest products, to receive personalized advice and instruction, and to partake in a full calendar of experiences including design workshops and on-site cooking demos.
Interior Designer: Young-Kun Yoon, ARIDO
Design Team: Victoria McGlade, Intern, ARIDO
Design Firm: Quadrangle
Project Photographer: Bob Gundu, Adrien Williams
Samsung selected a two-storey, 21,000 square foot shell at the main entrance to Toronto's Eaton Centre opposite Yonge-Dundas Square - a vast urban space at one of the busiest intersections in Canada. Right away, it became apparent that conventional, closed retail façade wouldn't give the store a dynamic urban presence and bolster the brand's identity within the city.
Samsung prides itself on putting out products that 'talk' to one another, enabling users to link their tech world together, from refrigerators to tablets, to televisions, and more. This flow among devices inspired the design team to create an environment where everything flows harmoniously, with the word 'infinity' in mind.
Large glazed areas put three-quarters of the store on display to the city. Passersby enjoy views deep into the space, and shoppers are constantly reminded of urban life. Externally, Yonge-Dundas Square is a blinking, bustling nexus, contrasting with the calm interiors of the store. A metal ribbon motif flows over the exterior and through the entrance canopy, leading visitors inside. Softly lit swirls sweep across walls and ceilings, encircling a grand curvilinear staircase, a sculptural element that ushers guests to explore the second level.
Colour and contrast define the merchandising strategy. Monochromatic grey tones in matte finishes create a muted background to the glowing technologies. Visitors are instinctively drawn to the tables, counters and displays where they can interact with products or agents by both their targeted lighting and white Corian surfaces, while realistic kitchen and living room zones allow staff or special guests to demonstrate how the products integrate with one another.
The second-floor doubles as an event space so all furnishings are flexible and easily movable. Celebrity chef demonstrations, photography tutorials, and even screenings for Hot Docs Film Festival are just a few examples from the popular schedule of events that take place there. The flagship contributes to the greater social fabric of the city and builds a new brick-and-mortar retail concept.
Related
ARIDO Award: Elevator Cabs

The challenge of this elevator cab redesign was to create a mobile portal between a well-aged ground floor lobby that would seamlessly integrate with each of the floors above. Category: DISTINCT Inter ...

ARIDO Award: The Hive

The first of its kind in Canada, this 3D printed masonry wall is the result of a collaboration between design professionals, students, and faculty at an Ontario university. Category: CRAFT Interior De ...

ARIDO Award: Florette Restaurant + Bar

While interior designers traditionally aim for perfection in their projects, this design team chose to highlight the imperfect, comforting aspects of this new restaurant space on Toronto's Queen Str ...