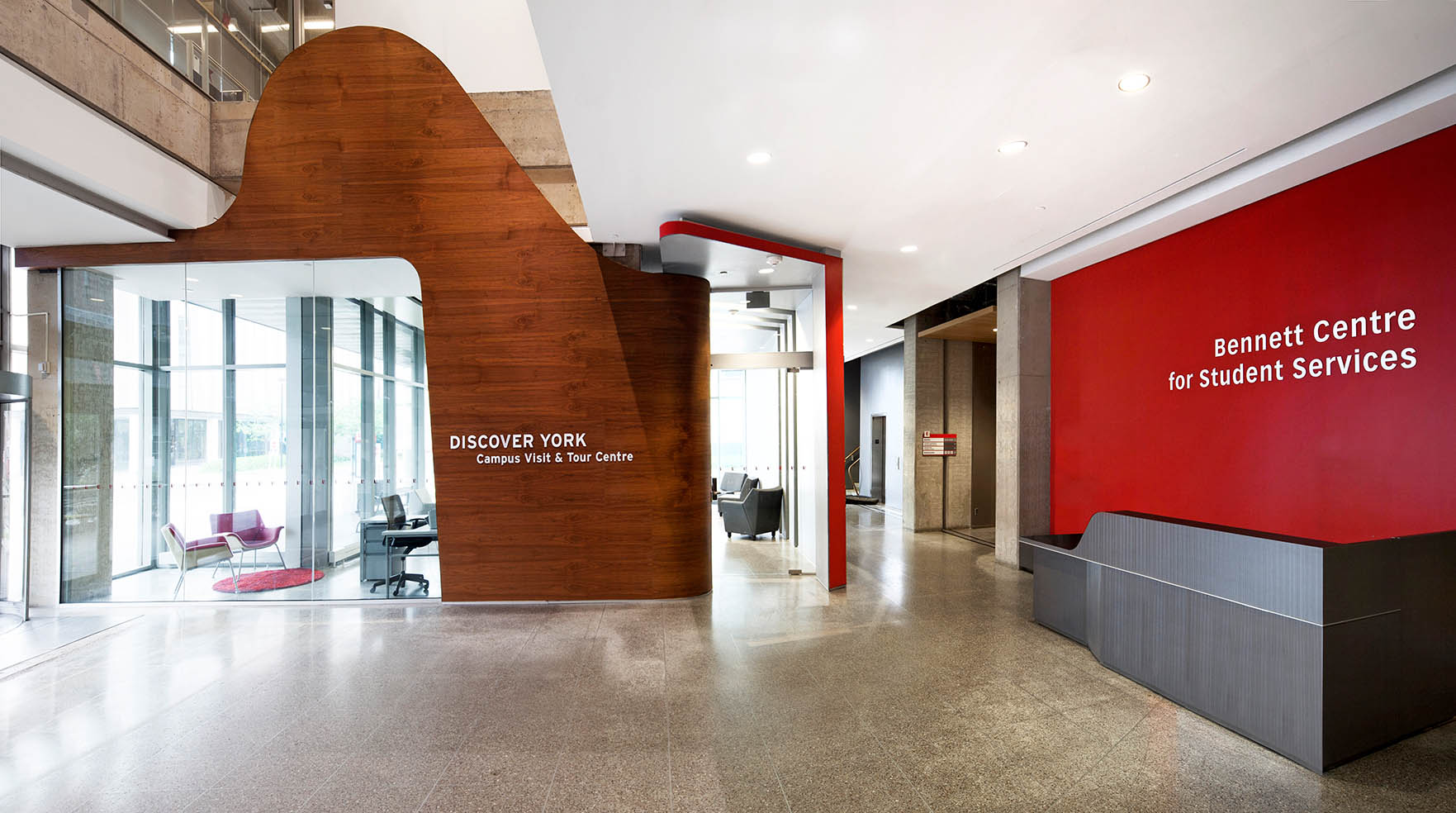 Creating a space that invites visitors and inspires future students
As a point of entrance and departure, the University's vision was to create a space that would entice visitors and prospective students. The success of this project was in creating value through retention and attraction. Secondly, an important aspect of the design was in maintaining circulation through unobstructed views and flow, and lastly, share a connection with the existing architecture.
Project: Discover York
Interior Designer: Tania Bortolotto, ARIDO
Design Firm: Bortolotto Design Architect Inc.
Photographer: Lisa Logan
Discover York is York University's welcome centre for prospective and returning students. It is a high profile portal and first point of contact for the University students and visitors.
The clients objective was to create a place where the welcome centre will brand York University positively and enhance its reputation. The project involved multiple stakeholders whose definition of project success varied. The space required functionality and flexibility for student services and at the same time a space program that allowed for accommodation of large groups for presentations and tours.
To create a comfortable and calming environment for all visitors, a palette of warm wood, bold red and tranquil greys were chosen. To draw and direct the eye, the bold red is used as a backdrop to the reception desk, where visitors are welcome to receive information and direction.
Natural light finds its way into the spaces through the use of glazed openings. Above a 10' high plane of glass, a warm but salient wood feature wall swoops one from the lobby area into the seminar space. Soft curves break the rigidity of the concrete structure and adjacent spaces, thus serving to act as a welcoming device for visitors. Whilst in the seminar space, visitors are welcomed to relax and partake in information presentations provided by the university. Here, strong grey accents couple with precise incisions into the ceiling and wall provide an air of confidence. Slices into the walls provide views into the circulation space, maintaining a connection between all occupants throughout the day.
Related