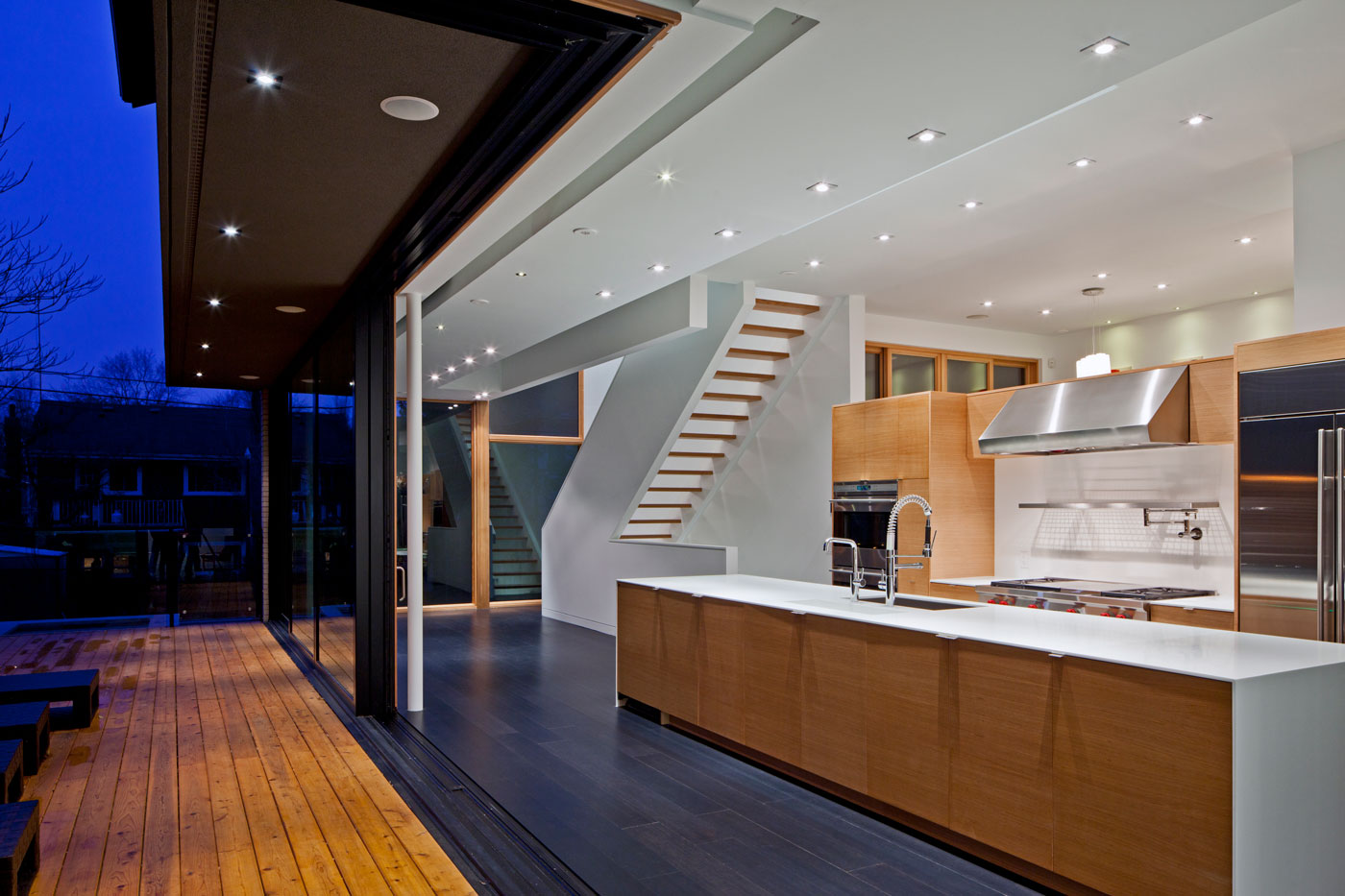 This modern home blends indoors and outdoors seamlessly.
As architects and interior designers on this project, the design team wanted to address the challenge of this east-west oriented lot in Toronto's Beaches neighbourhood. Their goal was to maximize the southern exposure of this property and provide spaces for the clients to enjoy Canada's short summer season to its fullest.
Interior Designer: Neal Prabhu, ARIDO
Design Firm: nkArchitect
Project Photographer: Peter A. Sellar
Located in Toronto's Beaches district, the 150_W Residence
Creating an L-shaped outdoor space along the south west corner of the building offered an interesting solution: the full height moveable glass walls let ample winter sunlight inside, while in summer, the same walls slide away from the inside corner of the L opening up the indoor space to the outside.
With the client's busy work schedule and little down-time, the home needed to be a haven of tranquillity and calm, while providing space for relaxing and entertaining – a sanctuary, vacation spot and family home, with bright day‐lit interiors. Pragmatically, the clients and their growing family sought an open plan with flexibility in function and space, and outdoor living spaces easily accessible and visible from any point within the interior.
The home's materials all extend this tranquillity, as the design team erected vast white walls, neutral wood finishes, stainless steel appliances, and dark wood flooring. The changing light and shadow patterns throughout the day, and seasonal patterns become the focal points in this neutral space.
With a focus on restraint and simplicity in materials complemented by the warmth of exterior surroundings, this home is a stunning backdrop for a growing urban family to enjoy their time together.
Related
An urban oasis in the Beaches

Just a few blocks from busy Queen Street East, on a tiny corner lot, the clients engaged the design team to create a serene oasis which felt sophisticated and urban, with the comfort and coziness of a ...

Pioneering the open plan office

In 2015, Jones Collombin approached Altius Architecture to design and manage the construction of a new office for their growing wealth management firm. When space became available in the architectural ...