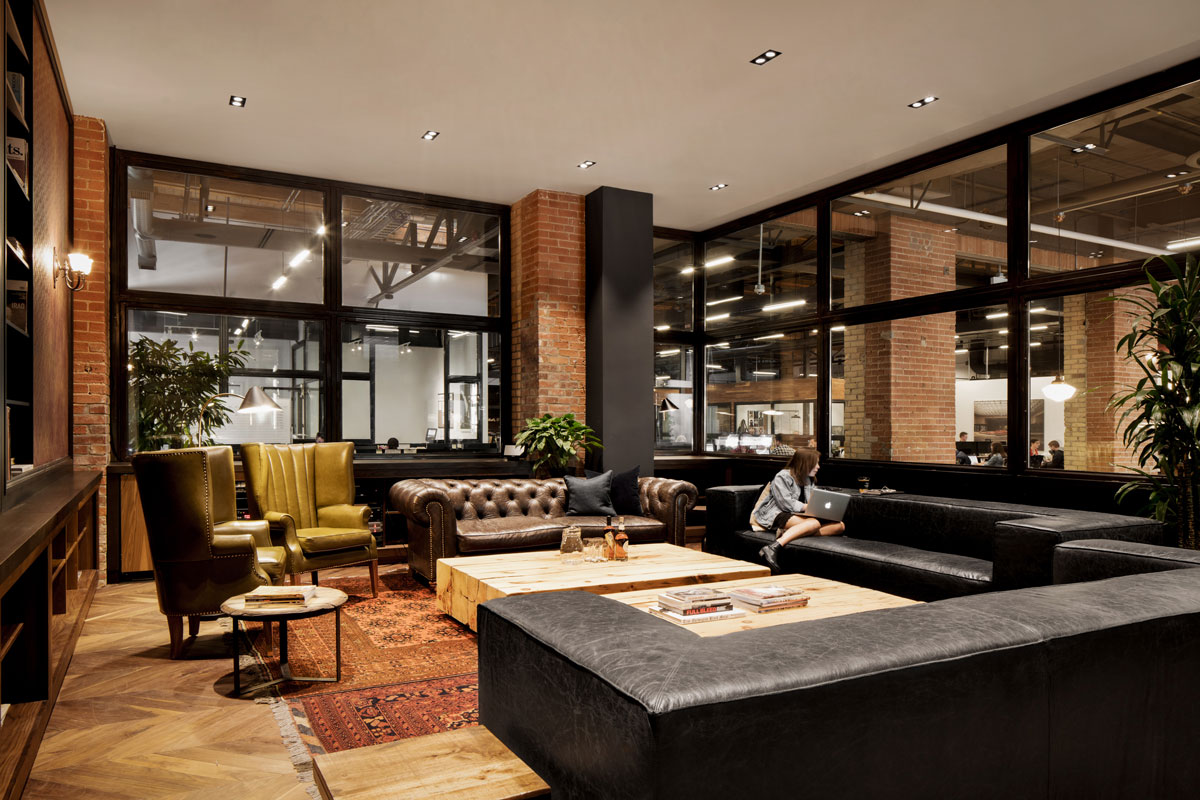 Ultra cool offices for Vice Toronto HQ
Interior Designer: Allen Chan
Design Firm: DesignAgency
Photographer: Adrien Williams
A rambunctious, audacious and youthful energy is the spirit of the Vice brand, and they sought an office space that reflected these qualities. Attuned to the needs of its client, the design team infused a decommissioned factory with the informal, relaxed vibe of a classic cigar lounge, then stealthily layered technology, lighting, and sound equipment throughout.
Upon entry, you are immersed in the vivid world of the Vice brand. The industrial lobby captures, through giant panes of steel-framed glass, the hive of activity throughout. Unexpected touches, like the neon sign, give a taste of Vice's sense of quirky irreverence. That irreverence intensifies immediately beyond the lobby, where visitors step into a fully stocked saloon.
Adjacent to the bar, the Bear Room is both a meeting area and the signature interview space, where sound equipment and lighting can be optimized for filming. The room is elevated a foot from the rest of the office for both poetic and practical reasons. The podium makes visitors feel important; the added lift helps with on-camera sightlines.
Most of the office is open concept, with employees at reconfigurable desks with optional privacy screens. Lighting, augmented by giant east facing windows, can be adjusted for filming. Walnut-and-glass-clad cubes float down one side of the office, separating the kitchen from the main space. The separation instills a sense of intimacy for the eating area, useful because it doubles as a set for on-camera cooking demos.
Other intimate break-out areas include boardrooms lit with custom lighting that carries the theme of stealthily integrated tech: the cable channels are cast into the concrete floor and discretely run into the tables. Editing suites are completely sealed from the office bustle, while a screening room provides a space for unwinding and watching the results of the office's frenetic creativity.
Related
ARIDO Award: The Hive

The first of its kind in Canada, this 3D printed masonry wall is the result of a collaboration between design professionals, students, and faculty at an Ontario university. Category: CRAFT Interior De ...

ARIDO Award: Spadina Workplace

Designing for human behavior and fostering innovation were the two key strategies for this workplace redesign. The design team aimed to inspire a return to the office not from necessity, but a genuine ...