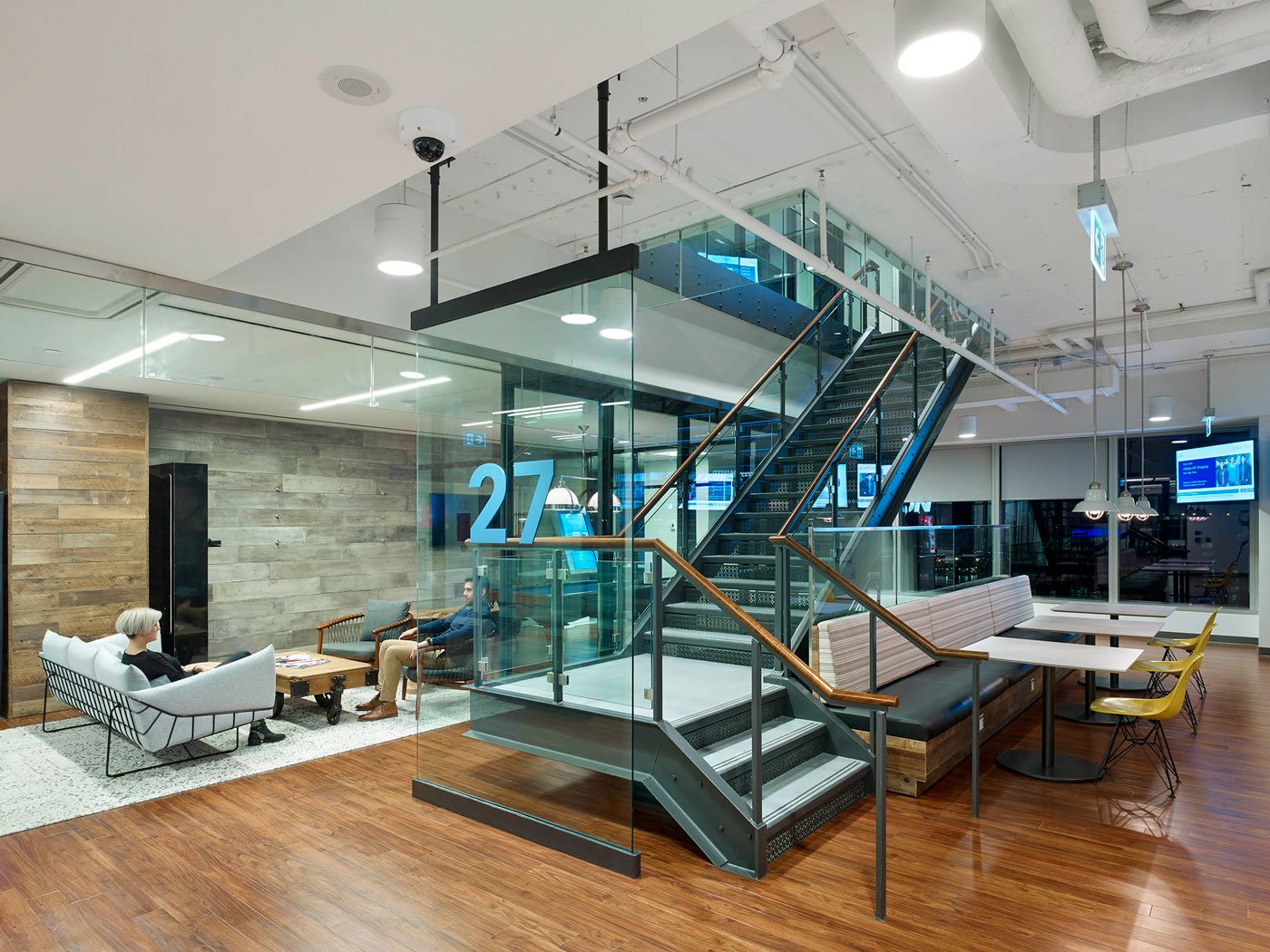 An activity based workplace for innovation
With a lease expiration looming, Cisco was prompted to examine their current work space only to realize that it was not compatible with current ways of working. Cisco envisioned their new WaterPark Place office as a branded environment demonstrating the company's commitment to innovation and an opportunity to showcase their integrated technology products.
Interior Designer: Sharon Turner, ARIDO
Design Team: Marianna Ng, ARIDO; Laura Jones, ARIDO; Lisa Fulford-Roy, ARIDO
Design Firm: HOK
Project Photographer: Tom Arban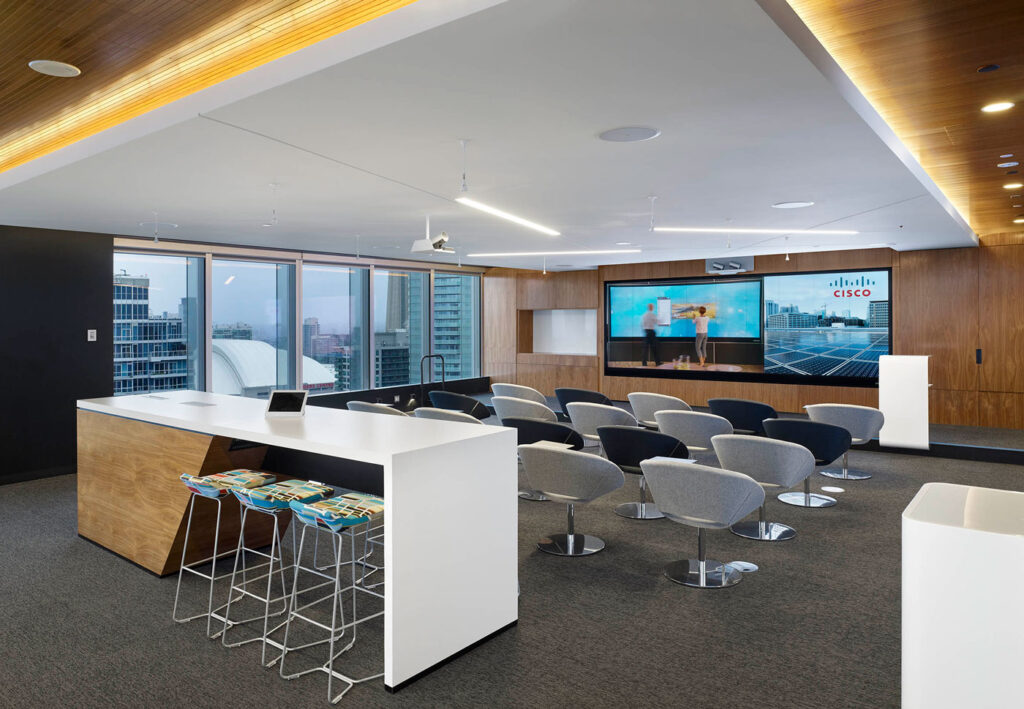 With a hot desking set up for most employees, the layout is based on work styles rather than by departments, following the activity-based model. This also encourages employees to work remotely, making full use of technology that supports flexibility and innovation.
The employee floors are designed in three concentric circles, with the café and meeting spaces at the centre. Next, the middle ring is a series of quiet rooms, built with acoustic solutions, creating a buffer between 'social' and 'work' spaces. The outermost ring houses individual workstations, ensuring every employee has access to natural light. Cisco's technology products are integrated throughout, providing opportunities for employees to witness their implementation.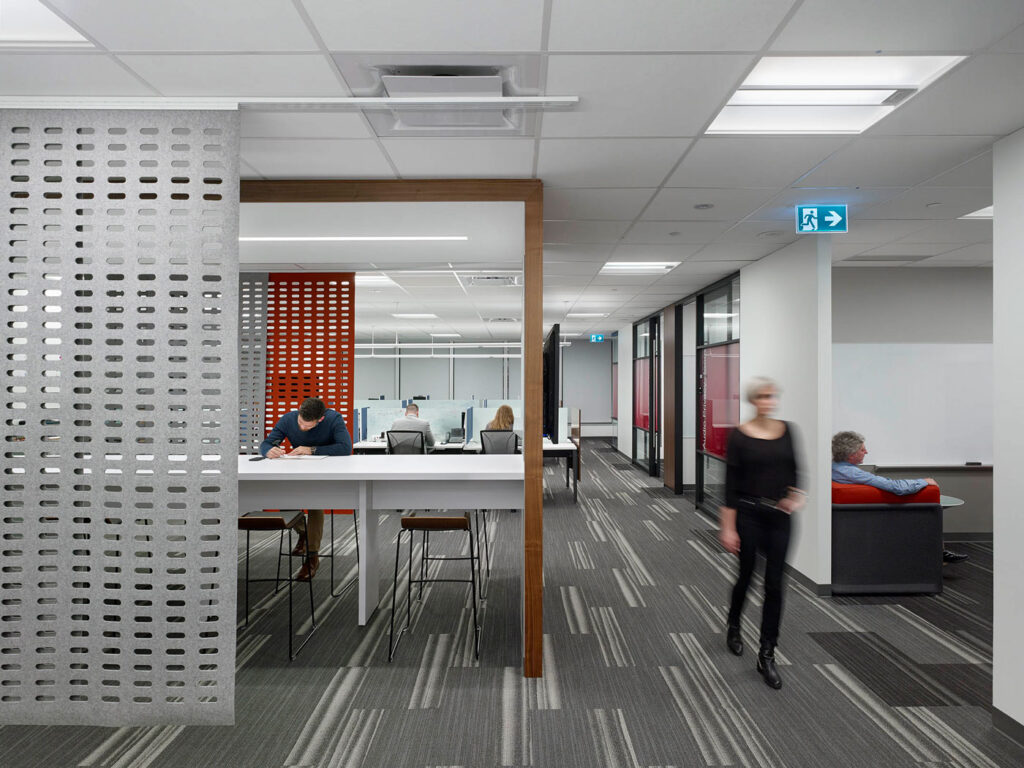 With a neutral base palette enhanced by warm walnut wood, different accent colours on each of three floors produce an effect that is sophisticated but not trendy. The working environments are clean-lined and professional; in contrast, the social spaces have a more industrial look with open ceilings, metal stairs, concrete accent walls, and reclaimed wood paneling.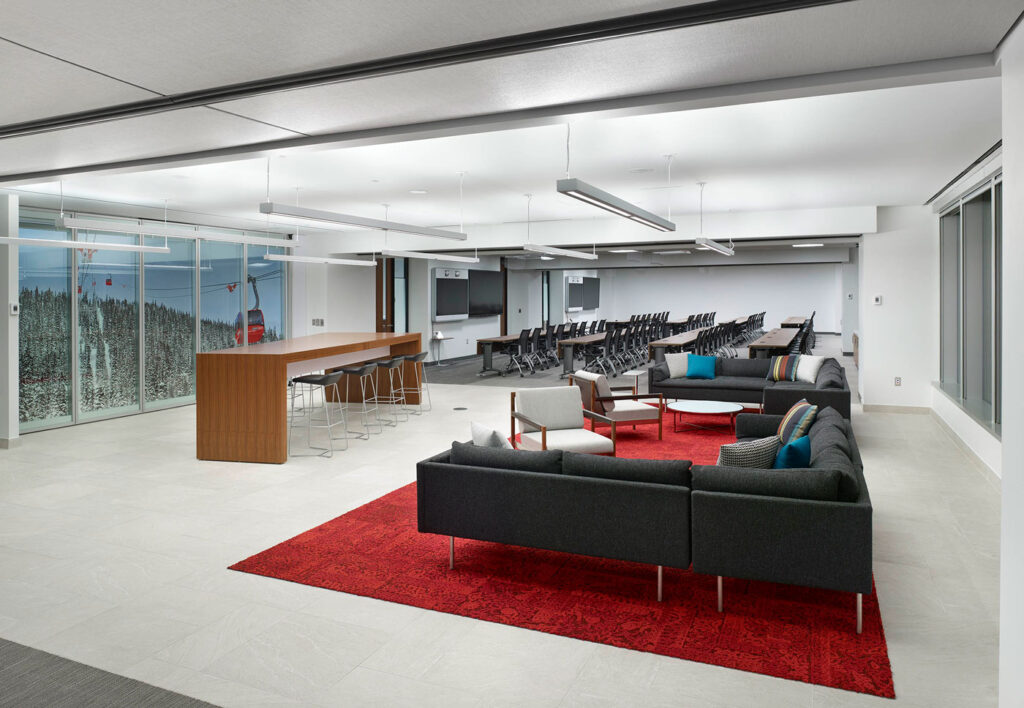 To create a greater sense of place and identity, the design team incorporated icons of Canadian culture throughout, including meeting rooms named after iconic Toronto buildings, like Casa Loma and Massey Hall.
Related
ARIDO Award: The Hive

The first of its kind in Canada, this 3D printed masonry wall is the result of a collaboration between design professionals, students, and faculty at an Ontario university. Category: CRAFT Interior De ...

ARIDO Award: Spadina Workplace

Designing for human behavior and fostering innovation were the two key strategies for this workplace redesign. The design team aimed to inspire a return to the office not from necessity, but a genuine ...