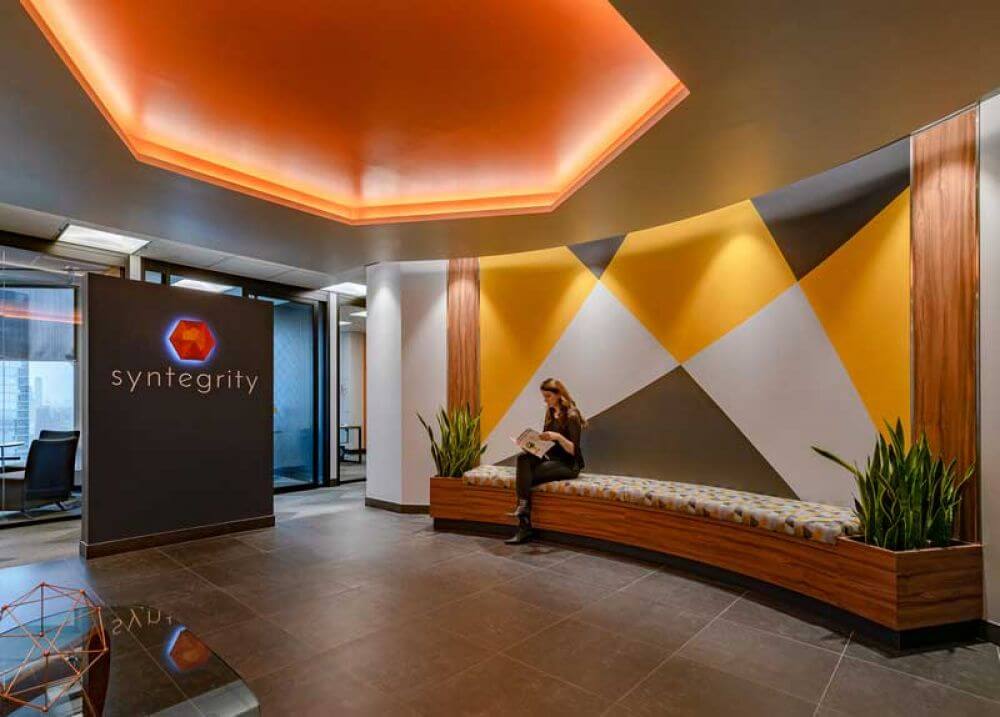 A Winning Formula
When Syntegrity embarked on their search for property for their headquarters in Toronto, their goal was a space that would foster innovation, growth, and create opportunities for collaboration among employees, to reflect the core values of Syntegrity's brand and culture.
Interior Designer: Roberta Diachok, ARIDO
Design Firm: Savills
Design Team: Rasha Al-Naqeeb, Intern ARIDO
Photographer: Bob Gundu
After thoughtful evaluation, Syntegrity was ready to commit to a long-term home. As an organization that solves complex challenges for global leaders across the world, it wanted to ensure their workplace aligned with their brand, culture, and their unique approach to problem-solving.
Syntegrity requested an interior designed to improve wellness and health for employees and clients. This challenged the Savills team to identify suitable spaces that could accommodate their unique specifications, before tackling the interior design portion. After a comprehensive analysis of the office market, including workplace and workforce strategies, a centrally located space with a long-term lease was found in Brookfield Place. Since 2012, Brookfield has proudly provided its tenants with LEED Design for existing building operations and maintenance, and Gold Certified office space. LEED certification recognizes sustainable building operations and performance, BOMA, and WELL certificates. It was the perfect fit.
Their lobby establishes the atmosphere from entry with via their unique logo becoming a feature element of the space. Throughout, sustainable materials were selected for their low impact, while the use of fewer materials and re-use of leftover acoustic panel pieces helped keep costs down. Syntegrity also sought a multi-purpose, plenary space, which Savills addressed by adding a warm atmosphere to the plenary space. It can transform to a town hall, boardroom, training centre, and an event venue.
Overall, the space supports Syntegrity's everyday business just as much as their special events and consulting sessions. A winning formula.
Related
ARIDO Award: The Hive

The first of its kind in Canada, this 3D printed masonry wall is the result of a collaboration between design professionals, students, and faculty at an Ontario university. Category: CRAFT Interior De ...

ARIDO Award: Spadina Workplace

Designing for human behavior and fostering innovation were the two key strategies for this workplace redesign. The design team aimed to inspire a return to the office not from necessity, but a genuine ...