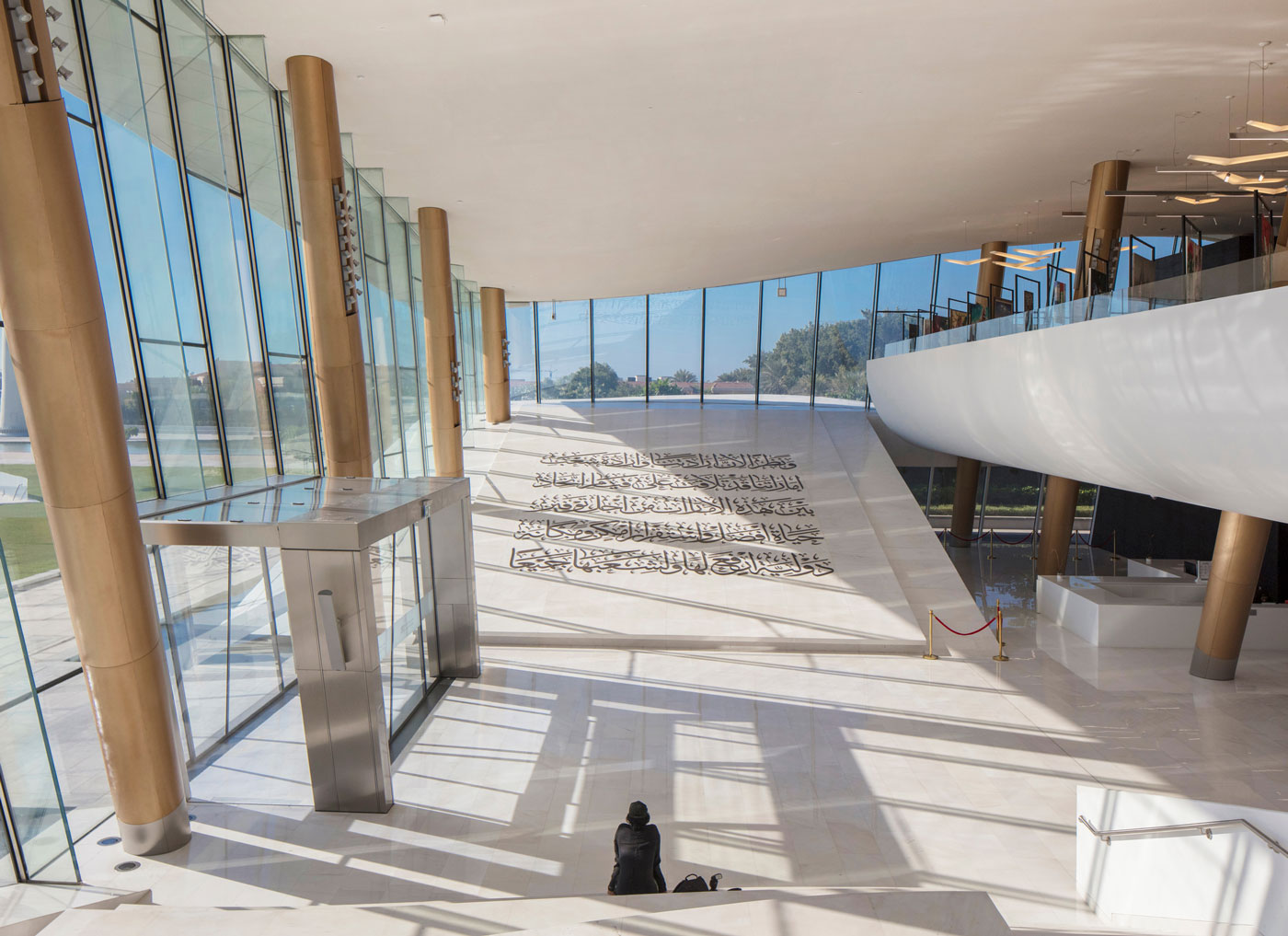 Symbolism reigns in this Dubai Museum
Situated on Dubai's waterfront, the Etihad Museum honours the United Arab Emirates' (UAE) conception story. Comprised of the curving Pavilion above ground and a subterranean Museum, the building is adjacent to the historic Union House, where the nation's Constitution was signed in 1971.
Interior Designer: Chen Cohen, ARIDO
Design Firm: Moriyama & Teshima Architects
Project Photographer: Victor Romero, Felix Loechner
The museum makes an impact with its unique scroll-like form which mimics the parchment paper of the UAE Constitution. The Pavilion's entry features bronze metal text of the nation's founding philosophy that seems to rise from a page of marble. Rows of embossed bronze columns recall pens in motion, referencing the signatory act that formalized the Emirati unification.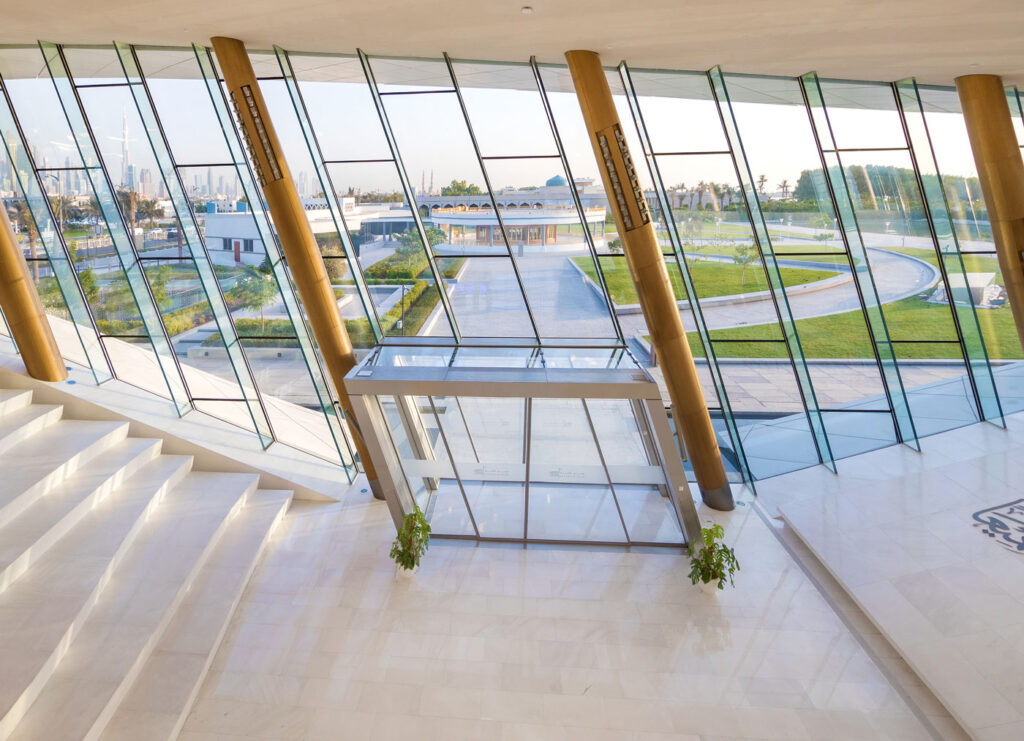 A grand staircase and ramp that echo flowing lines of Arabic script takes Pavilion visitors underground. Once descended, visitors encounter the familiar circular form of Union House through a curving foundation wall, clad in dune-like carved stone. This familiar element becomes the central organizing feature of the museum, a constant reference point for visitors as they navigate the massive permanent gallery and its surrounding spaces.
The flow of movement is further highlighted by billowing white ceiling planes that represent the rippling patterns of the Bedouin winds in the desert sand. Movement is further accentuated by carved wood columns throughout the space.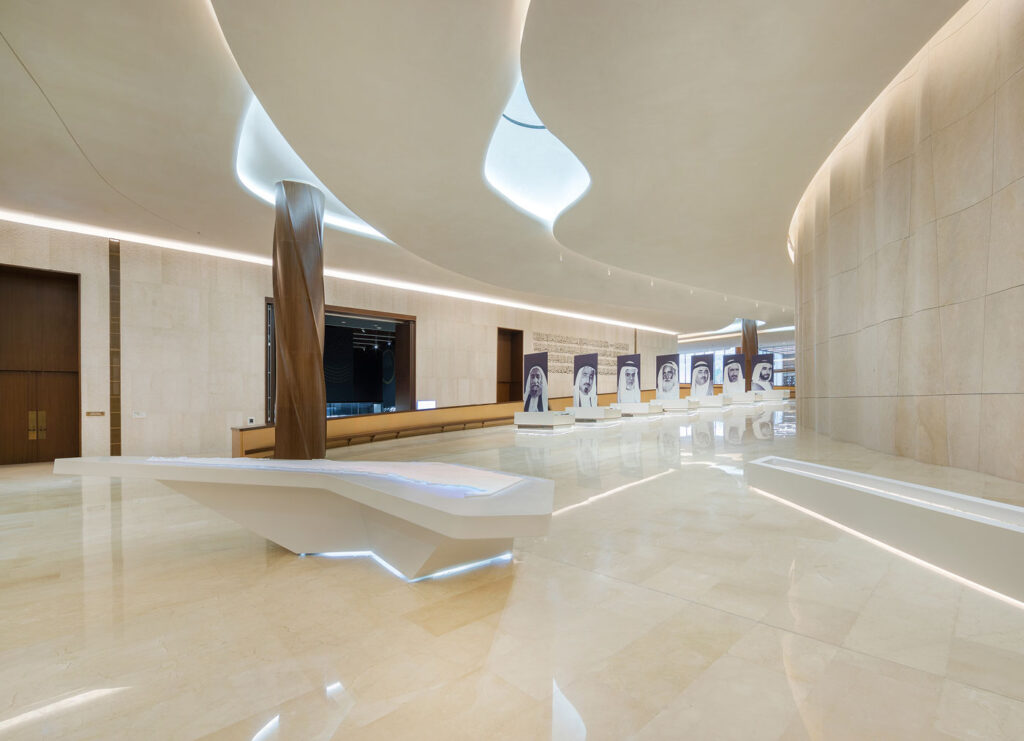 The museum houses permanent and temporary galleries, a theatre, event spaces, and archival facilities, and the design team placed these rooms strategically, as they have no need of natural light. Meanwhile, two spacious sunken courtyards and four large skylights connect to the ground level plaza, flooding the sub-terranean classrooms, research library, administration offices, prayer rooms, and café with natural light and prevent visitors from feeling stuck underground.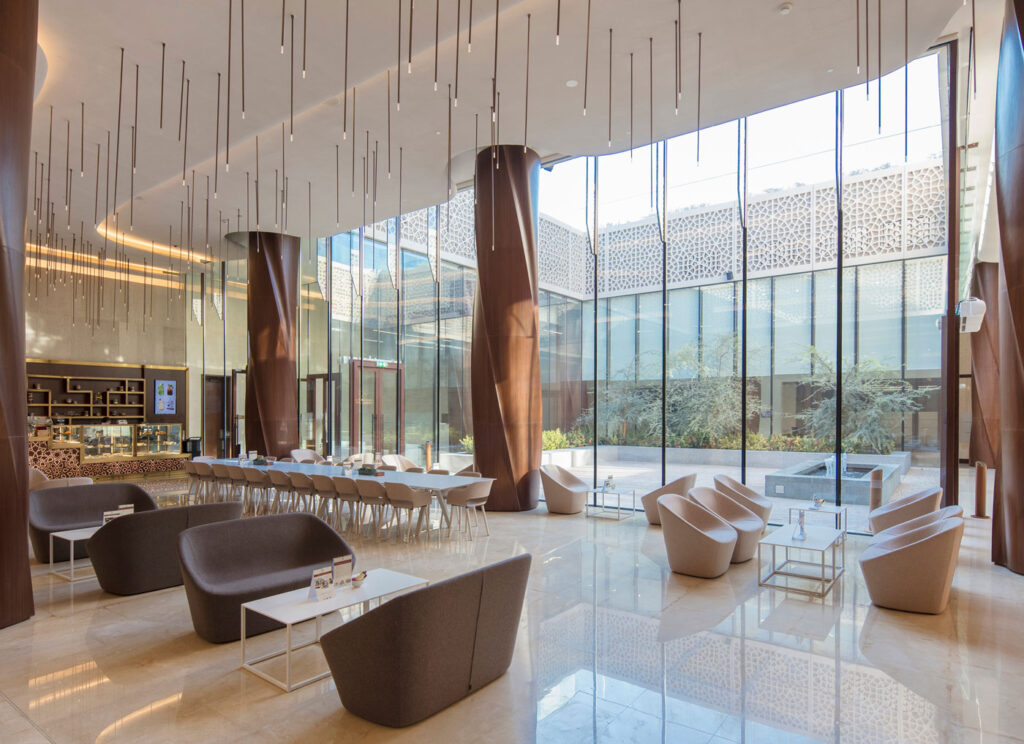 The design team worked to ensure the museum is a space that represents the UAE's past while creating a site for learning and exchange in the present, and progress in the future.
Related
ARIDO Award: Elevator Cabs

The challenge of this elevator cab redesign was to create a mobile portal between a well-aged ground floor lobby that would seamlessly integrate with each of the floors above. Category: DISTINCT Inter ...

ARIDO Award: The Hive

The first of its kind in Canada, this 3D printed masonry wall is the result of a collaboration between design professionals, students, and faculty at an Ontario university. Category: CRAFT Interior De ...

ARIDO Award: Florette Restaurant + Bar

While interior designers traditionally aim for perfection in their projects, this design team chose to highlight the imperfect, comforting aspects of this new restaurant space on Toronto's Queen Str ...