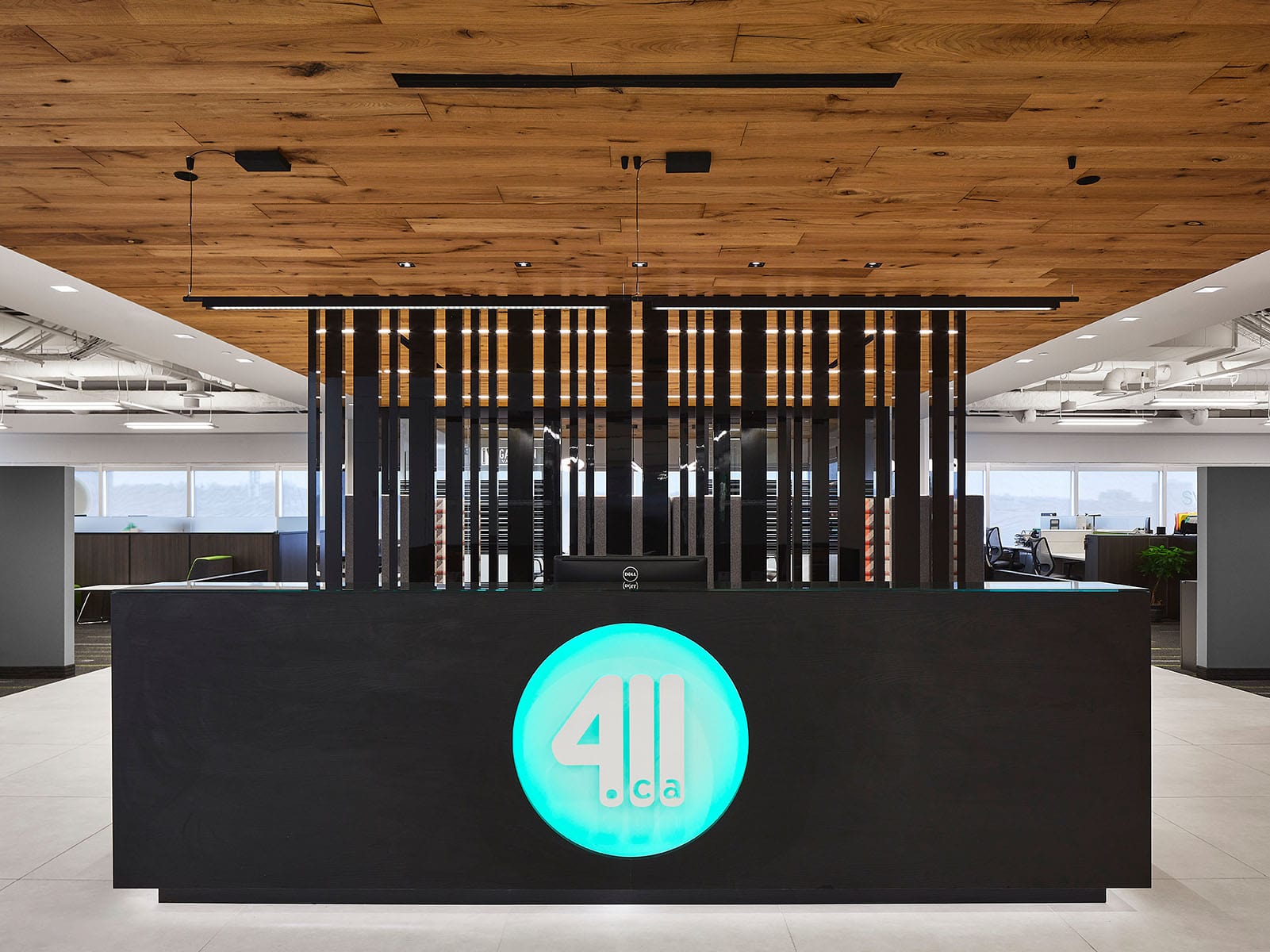 Bringing Two Spaces Together in One Dynamic Environment
Operating for many years in two suites on different floors of an office building, 411.ca was seeking an alternative that would improve workflow, encourage teamwork and facilitate communication among employees.
Interior Designer: Kathleen van Brussel, ARIDO
Design Team: Samantha Koss, ARIDO
Design Firm: Comely van Brussel
Photographer: Younes Bounhar, doublespace photography
The client wanted an open-concept environment for all levels of staff, and to create a variety of collaborative areas where teams and departments could easily interact.
After working with the client during the search for new office space, a final decision was made after touring an office tower overlooking the Don River. The vast floor plate with perimeter windows and beautiful views helped to establish the overall design concept: an open space filled with light, raw concrete and black finishes throughout, accented by the view and other natural elements.
The design objective was to preserve the sense of space while keeping teams within practical reach of one another and provide sufficient meeting and collaboration spaces. The space was to promote team work and project an image of a fun and dynamic environment.
The design team divided the space into several zones and placed individual work areas along the windows to maximize exposure to daylight. Enclosed meeting rooms with a multitude of furniture arrangements (lounge, traditional tables and chairs, standing desks) are at the centre of the floor. The design team also added open collaborative areas on each side of the building, a reception with a waiting area as well as an adjacent meeting room. Finally, the lunchroom is in the brightest corner of the floor, next to a room for large town-hall meetings.
The design elements and finishes reflect a dynamic urban environment, in contrast to the warmth of nature: raw concrete and dark tones are combined with wood and bright accent colours. Due to budget constraints, the design team upgraded design elements where employees would be exposed to them most, in the reception, main meeting room, and lunchroom.
Throughout the office, contrasting accent paints, carpet and upholstery are used, from the glossy black slat wall in reception against a ceiling of rustic oak, to the neutral tones of the lunchroom finishes as background for a striking graffiti wall and funky string lights.
Related